Greg Manning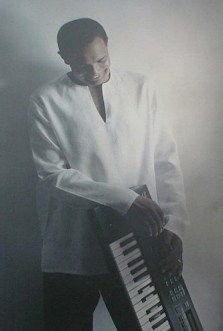 Every now and then a uniquely talented artist, through fresh and innovative
musical content, transfers a resurgence of life into the veins of a genre. This is indicative of Greg Manning's passion to reach his listeners through melodic
tunes that reach your soul.

Greg has toured with Brian McKnight, Kirk Whalum, Will Downing, Richard Elliot,Gerald Albright, Chante Moore and Mindi Abair just to mention a few. Greg who is also the former music director for GRAMMY® Award-nominated artist Jonathan Butler, guides his listeners on a journey of life's influences compiled into his highly anticipated solo project titled The Calling.
The Calling is as soulful as it is spiritual and relevant. Soul-Jazz at its best.
After touring extensively for ten years throughout the U.S., Europe, South
Africa, and the U.K., Greg made a conscious decision to come off the road. Not too long thereafter, he started composing music for film and television. Yet, he felt it was time to do his own project. "I think for any sideman, he says, there always comes a time when you hear your own voice and you want to do your own thing," and that's exactly what he did.
Greg began writing for The Calling in 2004 and officially released his solo project worldwide on iTunes on April 5th, 2010. "I wanted the project to be a great, coherent, accessible CD and not some hybrid thing that doesn't please anybody fully." There is a lot to be said about Greg Manning the artist, but it would only take away from what his music has to say.
Greg Manning is a Berklee College of Music alum and an amalgam of cultures. He was born in Nigeria and raised in Switzerland. Greg moved to Los Angeles in 2002 and has had an incredible career. He is a three-time certified platinum producer for Universal Music Switzerland, and has had several Swiss Chart toppers since 1996.

Greg Manning, the man and his music. Soul-Jazz at its best!
Greg Manning - Soulciety


Greg Manning is a multi-faceted musician who feels comfortable in various genres. He is a Composer, Producer, Arranger, Music Director and Keyboard Player. In 1990, he moved to the US to study piano and film scoring at the Berklee College of Music in Boston.
A start into the music scene is not easy. So he made at first some jobs to get the contact. He was the Assistant Engineer on Paul Jabara's album Paul Jabara & Friends, which was released in March 1993. Very profilic was his cooperation with Eric Essix, for whom he produced the tunes For Real and Teardrops in his own studios for Orpheus Productions.
You will meanwhile look on the album for the name Manning in vain. Here you find Gregory Wachter. Greg Manning and Gregory Wachter are the same persons. After solving this puzzle and comparing the tunes My Love Is For Real on Greg's album Soulciety and For Real on Eric's album, one states with surprise, it's the same tune. So if you like Eric Essix album Small Talk, you can also buy Greg Manning's album Soulciety. They are of the same quality and style. What explain the high success of Eric's album and the lower success of Greg's album? Greg' s album is an Indie production, Eric's album is produced by Zebra Records and distributed by All American Music Group through Warner/Elektra/Atlantic Copration. Any further questions? Reading this review you belongs to the exclusive minority, who knows about the treasures of Smooth Jazz, which are easily to recover.
Come As You Are is a funky bass oriented piece with nice vocal background and a vocoderized lead vocal. Nevertheless you don't find in the liner notes the name of a bass player or a drummer. This tune is totally produced with keyboards and programming by Greg and this well crafted.
Hey Sonny, give me that beat...starts Greg in the talk box on Get Your Groove On. Cara Fears and Denise White are shouting for the Groove, Greg's heavy Hammond B3 riffs and solo piano play, Sonny Emory drums, Darian Emory's sax and Ronnie Garrett's bass are brewing a funky shake.

Well, the third tune is the outstanding piece My Love is For Real. Often played on Smooth Jazz radiostations and a great hit in the charts of the last two years this tune showcases Greg's mastership on piano. I wish an eight minutes live version on his next album. This tune must be played again.
Over The Mountain presents the expressive voice of Mike T. well accompagnied by Greg on keyboards and programming and Marco Figini on guitar. A romantic vocal tune you have to remember.

On the next vocal tune For You you can hear Greg's romantic voice. I often remark that great Smooth Jazz artists, who are master of their related instruments, cannot sing and destroy the effect of their tune. Here, one finds a pleasant exception. Who plays the guitar?

The romantic mood continues on the next slowtempo tune Smile. Wonderful keyboards and piano sounds are woven to a dreamy athmosphere.
You Make Me Cry reveals anew the mellow and warm vocal of Mike T. Who is the man behind the mysterious T- mask? Will we soon have after the K-brothers a whole alphabet of anonymous one-letter-artists?

Cruisin' begins with the sound picture of a phoning man, starting his car. The rythm emphatic funky tune reminds me on the funky but still smooth stuff of Alexander O'Neal, Al B. Sure or Graddy Harrel. On Graddy Harrel 's Come Play With Me it was a starting motor-cycle.

Two Brothers is hard uptempo Funk with brass sounds, heavy bass and drums and massive piano attacks.

Come A Little Closer is a vocal interlude with many sound alienations.
On Just A Little Bit Greg demonstrates that one can play natural sounding drum programming. Besides Greg's skillful piano solo are Cara Fears, Denise White, Toni Williams's vocals noteworthy, who gave this tune a soulfull character .

All Is One is a powerful message to us: I have many musical ideas for further albums. "The road is long, but the weak will be strong." Incredible how one artist can produce such a matured work of musical art. Albums like this one awaken the desire for more.