Noel Elmowy
At the age of seven began classical pianp studies for 10 years then turned to contemporary jazz fusion and has playing on the Sydney scene since 1974. Performed and workrd in London from 1980 - 1982 with musicians Dave Bitelli (Elton John, David Bowie & Joe Jackson), Martin Ditchum (Sade), Gordon Hunte (Sade), Ray Carless (Elvin Jones) and Chris Scott-Francis (London Jazz Composers Orchestra).
Trained in classical piano for 10 years then turned to Contemporary jazz fusion and has been playing on the Sydney scene since 1982.
Performed and worked in London from 1980- 1982. On return, formed "Espirito" (Latin Jazz) in 1982, an innovative first in the Sydney Jazz scene.
Highlights include longstanding residency at Sydney's "The Basement" and support for Dizzy Gillespie's Australian Tour.
Tours include: throughout Australia- Al Jarreau support, Japan & Fiji- Andrew Oh Band, Thailand International Jazz Festival- Musical Director Andrew Oh Band.
Debut Album "Feelin' Good" released August 2000
Soul / Jazz /Funk Instrumental for the "adult contemporary" market
Recorded in Sydney Australia and Los Angeles Ca. with special guest saxophonist Gerald Albright and featuring vocalist Doug Williams.
8 instrumental tracks & 5 vocal tracks featuring Doug Williams ,Erana Clarke and Keren Minshull

Album Musician Credits

Vocals - Doug Williams, Keren Minshull, Erana Clarke,Jerry Malla, Danny D' Costa
Saxophone - Gerald Albright, Andrew Oh, Jason Morphett,Tim Oram
Drums - Chad Wackerman, Land Richards,Greg Sheehan, Mitch Farmer, Dave Plenty, Steve Gadd (courtesy Q-Up Arts),Neil Conte
Bass Guitar - Gerald Albright, Christopher Soulos, Leon Gaer, Victor Rounds ,Jacky Orszaczky
Guitar - Art Phillips, Michael O'Neill, Phil Stone, Carl Dewhurst, Albert Calvo, Gordon Hunte, Peter Northcote, Steve Edmonds,Dave Longo, Dave Colton, Anders Karlen
Trumpet - Vladimir Khusid
Percussion - Tony Azzorpardi, Walter Figueroa ,Jose Marquez ,Tony Malouf

Projects to date include:
*Theme for "Good Morning Australia"
* Produced& Co-wrote Andrew Oh CD "Silk' (Devine Records)
*Co-wrote three tracks USA released 2nd Andrew Oh CD "Andrew Oh" (Honest Entertainment / Telos Publishers) charting on Gavin Smooth Jazz NAC Chart USA @ # 32
*Produced & Arranged "Pass It On" for contemporary guitarist Albert Calvo featuring George Golla & Steve Gadd.
Live Performance Credits
Tommy Emmanuel, Rick Price, Mark Williams, Doug Williams, Ricky May, Danny La Rue, Keren Minshull, Rory O'Donoghue,Danielle Gaha, Andrew Oh
Legal Representation: Mathew Alderson@ Grey & Perkins,Australia (612)-92902999
Management : Mills Mnangement email-millsmgt@ozemail.com.au

---
Noel Elmowy - Feelin' Good
Smooth Jazz is a genre, which has it's native place in USA, especially in California. I don't mean that someone invent the genre. Instrumental Pop music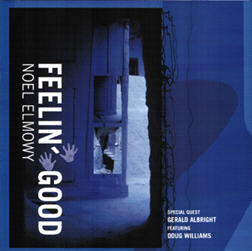 with an jazzy impact is played and listened everywhere in the world. But in California some radio manager had the idea to call this kind of music "Smooth Jazz" and gave the child a home. Since this time this tender plant developed and bloomed all over USA and the world. Australia was a terra incognito for Smooth Jazz over several years. But inspired by the American artists is the Smooth Jazz community now growing even in down under.
No music genre can exist without radiostations spreading the music and aquiring new friends for this genre. In Sydney Smooth Saturday brings out the best in Rhythm and Jazz on 2NSB-FM. From 10 am to 6 pm the music is smooth and the presenters just keep it coming. Another station is 2RES . Radio Eastern Sydney is the community broadcaster for the Eastern Sydney region. 2CCR-FM is a community radio station operated by Cumberland Media Association Inc. They broadcast from Baulkham Hills, a suburb of Western Sydney. All these stations are playing Smooth Jazz. More will come soon.
But the most import part of music are the musicians themselves. Noel Elmowy, one of these Australian Smooth Jazz artists, has been constantly involved in the arranging & production of artists compositions since the early 80's. Australia is a small market for instumental smooth funky Jazz. So he and his fellow musicians tended to search and be inspired by US musicians. For him Herbie Hancock or George Duke were the inspiration for truly playing in a freer format than popular time constrained Pop tunes.

He was always either been a band leader or integral member in the groups in Sydney, however his stint in London (80-82) truly made him aware that this love of alternative Jazz/Latin Jazz/Smooth Jazz was greater in Europe and the average listener more aware & appreciative of musicians having a go!!

So when he came back to Sydney , Noel formed a large Latin Jazz/Salsa/Brazilian big band. His solo album has taken 4 years from conception to final CD realisation.
Cost wise he has been fortunate to associate with wonderful musicians who put their time & effort into his project some asking not to be paid, however, this CD did require funds. Both gigs and his dentistry (Noel is a dentist) helped with that.
Let's talk about the musicians, who are playing on Noel's new album:
Land Richards (drummer) and friend helped in some introductions especially when he took Noel to a Gerald Albright /Will Downing session. They met while Land played for Al Jarreau in Australia. He met Wyn Morro of Avalondesign, a genius electronics engineer in US who put him on to Con Psorakis (Evia Systems) a real link in the studios in LA and from there doors started to open. These guys are Australian also! So he came in contact with Michael O'Neill, who is guitarist with George Bensons touring group and a friend of Lands too. Another artist appearing on Noel's album is Chad Wackermann (Frank Zappa), who lives in Australia. Chris Soulos & Noel have played together since the 70's. Basically all these musicians he work with. Doug Williams & Erana Mei Leef are Sydneys numero uno vocalists Keren Minshull(Euphoria) & Noel had a band in the late 70s & again in the late 80s. She has a hit on the dance clubs now.
The recording process involved the gamut of Recording mediums be they Cubase VST24/Protools24/Hard Disk/Analog Tape/ADAT/DA88 /DA78/HR/flying parts to & from US as well as himself going to USA to complete parts of this project. At one stage tracks #4,#5,#8,#12 were totally lost into hard drive heaven which stunned & knocked Noel 's spirit for many weeks. He comments his fate: "I 'm actually now so glad it happened because the results were far superior to what may have been."

Noel Elmowy's Feelin' Good is a "full-sized" album. One receives a cd with 74 (!) minutes of high quality music. The music is throughout laidback and well-mooded.
Cinqueterre, the Italian description for the fifth continent, is an uptempo tune dominated by Andrew Oh's lead flute and Jason Morphett 's flute, who's sax solo is fulminant. Noel brilliants in quick piano runnings following the steps of George Duke.
Precious love is a slow flowing tune with wonderful samples of Take 6 and the beautiful vocal highlight Doug Williams well framed by the backing vocals of Keren Minshull and Danny D'Costa. A candlelight tune par execellence. Michael O'Neill on guitar and Andrew Oh on sax, set further instrumental gems.
On Weavin' you can listen to the fine guitar licks of Art Phillips and Andrew Oh on sax. Exotic rhythm assets are played in by Bashiri Johnson (percussion loops), Land Richards (drums) and Tony Azzopardi (percussion). People complaining about the shortness of many Smooth Jazz tunes will register with contentment tunes with length of 6 minutes and more.
El Bobo is a track Noel became associated with in London and which became a signature tune for him. It's a cover version of the great keyboardist Webster Lewis' from the early eighties. The rhythm section on this recording of EL Bobo was taken from a very basic recording demo Noel produced for his band Espirito in the mid 80's for another demo of one of his latin tunes on an old 8 track 1/2 inch Tascam 80-8. Every tone counts, is the motto under which one can understand Noel's perfect piano play.Vocalists on El Bobo are Keren Minshull & Jerry Malla (not mentioned in the liner notes).

Only for you is the next gift welcomed by the Smooth Jazz piano fan. Excellent solos by Gerald Albright on soprano sax, Doug Williams soulful voice rounded up by sultry backing vocals brighten the listeners mood.
Awake presents the beautiful voice of Keren Minshull in a lovely company with Andrew Oh on sax and naturally Noel on piano. Noel plays like a nightingale. Keren sings: "I can't get enough of you" and I can refer this sentence to Noel's music.
Good news is a fresh uptempo vocal tune with the honey mellow voice of Erana Mei Leef. A fine tenor sax solo is presented by Tim Oram. Over all Noel's excellent piano play.
Let it Fly is a funky tune with a smooth piano overlay balanced with Gerald Albright this time on tenor Sax.
Wahwah guitar and heavy drum loops separate the following tune So-Sue-Me with breathtaking uptempo solos of Vladimir Khusid's mute trumpet, Phil Stone's distortion guitar and Marcus Miller's bass samples. Noel demonstrates his skill in arrangement and programming.
Flossy Aussie in a petite-fleur-rhythm shows anew Vladimir Khusid as a master of trumpet with a surprising development.
After some Smooth Jazz let's play some Blues and Noel plays the Blues on Hammond B3 on Shuffle The Deck. No one else than Steve Gadd plays the drums. A well-respected drummer who has appeared in many types of settings and with many great musicians like Bob James, Chick Corea, Grover Washington Jr., David Sanborn and Al DiMeola.
Azrou is a tune more in the timely radio-like way with heavy Hip Hop drum programming and some sax accents, well-known by the actually radio-charts. But this tune has it's own superior character by Noel's outstanding piano play and Carl Dewhurst brilliant guitar play.
The funky tail-light is Come On Over with slick keyboard play and many Wah-wah clavinet effects.
If you can spend some money for your cd-collection, don't miss this album. And for all lovers of his music further good news: Noel is already working on his next album.

© HBH