Sacred Groove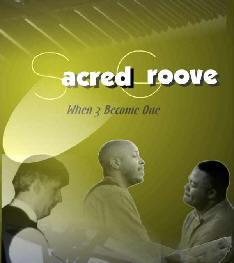 Tony Waters
Keyboard
Tony Waters, growing up in Athens, GA, became a Christian at age 9 at a summer church youth camp. At age 12, his grandmother purchased a bass guitar for him to play under the stipulation that he play it in church. The church was game and so was he. This initial experience of being a part of that small church rhythm section began to whet his appetite for more musical expression and by age sixteen he purchased a pedal steel
guitar from a local pawn shop and began playing it in church also, becoming proficient enough on it to be asked to do some recording session work.
The bass remained his instrument of choice until a close piano player friend of his turned him on to the likes of Edwin Hawkins, Lari Goss and various jazz keyboardists. Having been intrigued by the sweet chord voicings of these fine musicians, he decided to shift his focus to the piano, playing for an occasional group or soloist in church and learning all he could from other players.

While attending a local praise rally
with the church choir, Tony met a wonderful bass player named Alan "Ace" Cooper. Also, while on a session date, he met one awesome drummer in Charles Marvray. These men were not just ordinary "church musicians", but
very well seasoned, "hip" Christian musicians, each in his own right.

Tony has found one of the roles he believes God has been calling him to for quite awhile. That is of using the talents and abilities God has entrusted  him with to share the "Good News" of God's love and overcoming power and to lift up praise and thanksgiving to Him through music and testimony
(Ps 9:1).
Alan "Ace" Cooper
bass
Alan Ace Cooper is a native Washingtonian. He began playing electric bass at age 11 after being inspired by Earth, Wind and Fire's bass player, Verdine White.
Ace's major inspirations have come from artists in the contemporary music genre such as Margaret Becker, Amy Grant, Tim Miner, White Heart, Bebe and Cece Winans and Bryan Duncan. Ace is an EMG Active Pickups endorsee and uses Earnie Ball/Music Man Basses and Trace Elliott Amplification.
Charles Marvray, II
drums, percussion
Charles was born and reared in the Sunshine State... in the "City of Five Flags"...Pensacola, Florida.
Charles grew up playing drums professionally with local Jazz and Pop bands, as well as with a few Gospel music ministries. He later joined the U.S. Marine Drum & Bugle Corps where he became percussion performer, percussion section leader, arranger and composer for "The Commandants Own, U.S. Marine Drum and Bugle Corps . He went on to become primary percussion instructor and percussion department head for the Drum & Bugle Corps, Armed Forces School of Music, and the percussion coordinator for the U.S. Naval Academy Drum & Bugle Corps. He also served as professor of Music/Jazz Studies at The George Washington University.
Charles has played and recorded with many performers such as Kevin Campbell & the Color of Sound, The Scott Harlan Group, Barbara Roy Gaskins, Leon Roberts and Robert's Revival, Stickman, The Jerry Gordon Trio, and many more.
Gear used: Pearl MLX drums, Paiste "signature" cymbals, Vic Firth drumsticks.
Charles has dedicated his life and his music to the glorification of Jesus Christ.
the history...
THE GENESIS…
It all began at a very small Church of God congregation in Alexandria, Virginia - The Filmore Avenue Church of God. Within these walls on a given Sunday, you would find Musical Directress, Melanie Willets and keyboardist Tony Waters, directing and accompanying a small enthusiastic Gospel Choir...ushering in the Holy Spirit to a very welcomed and thirsty congregation.
In 1995, under the leadership of both Melanie and Tony, began its second steps in recording the Choir. It was after an invitation of the Choir to minister at a praise rally at Shiloh Baptist Church, on Duke St. in Alexandria, that Tony observed the many performing choirs and musicians.... of note would be that of Shiloh's bassist, Alan "Ace" Cooper.
To properly organize the recording sessions, Tony and Melanie needed to acquire additional musicians to complete the rhythm section. Impressed with Alan's musical performance within the music ministry of Shiloh Baptist, Alan was contacted and accepted the request to assist on Bass for the recording. The need for a drummer was the next task at hand for the Filmore Staff.
Tony was contracted for a studio session at Walton Recording, and later met Charles Marvray, as he was also contracted for that session. The two quickly developed a mutual musical respect for one another, and Charles was asked to fill out the drum chair for the Filmore project. Guitarist Charles Wright would also be recruited for his services.
As the new team of musician's quickly melded their individual talents into a tight-nit rhythm section...the "Feeling" was in the air, that something special could happen! What happen from that experience, was an occasional invited attendance of Alan and Charles to perform in tandem with Tony at Filmore for the Choir - as the Choir was now performing many of the selections from the completed recording of "Give Him The Glory."
On almost EVERY OCCASION the "Trio" got together to play...it was such a special happening that the congregation would stay after Church had ended, just to continue listening to the ingratiating stylings of the Guy's! One would often hear impromptu arrangements of old Standard Hymns and current Gospel interpretations. Sometimes, it was almost like a concert in and of itself....and you add the fact that Melanie, an extremely talented vocalist, with plenty of "Blow-you-away" vocal chops and personality to boot...would add her angelic vocal touches - it was a SIGHT TO BEHOLD! And THAT'S when they KNEW SOMETHING WAS HAPPENING AND THEY NEEDED TO PAY ATTENTION! Yes...God was moving on each of them, and He was trying to tell them something! On a "certain level," THEY LISTENED.... and ACTED!
Tony got the "bright idea" that he wanted to record some of the things they'd done at Church...so they did. In the process, the thought occurred that they should REALLY DO SOMETHING with their work! So what was initially a project of Tony's, it now became more of a "group effort" - the group SACRED GROOVE was formed!
THE EVOLUTION…
The continuation of the now "SACRED GROOVE recording project," would cover almost a three-year task effort. "Living Life" and its realities would sometimes slow the process, but they continued to stick together.
During the process, a contact with Varity Recording Artist, John P. Kee, was made. Having heard most of the tracks on the CD, Reverend Kee invited the group down to Charlotte, North Carolina, to visit and discuss possibilities. A tremendous visit it was! The guy's visited one of Rev. Kee's studio's of which he was doing work on another of his projects...the guy's got a very personal tour and discussed Rev. Kee's interest in the group. The Guy's collectively decided to return to the Washington Area and finish recording the other tracks at Walton Recording, where they had begun. GOD was not ready for them to move just yet!
Later, the Guy's would enter into the Gospel Music Association's
"Spot-light" regional contest. They were chosen as one of eight finalists! Unfortunately, the group would have to decline, as a major transition was about to occur - Tony had a great opportunity to go back home with a great employment situation...an offer he could not refuse. Disappointing as this was to Alan & Charles...they rallied around their brother in support, and continued to maintain the integrity of the group in it's recording stages nonetheless. God was in control, and HE knew what He was doing.
During the process of Tony's leaving for Atlanta, the group would perform sparingly within the Washington/Baltimore Metro Area. Of note, was there performance at Landsdowne Worship Center in Baltimore, MD..., which was now Melanie's new Church. Melanie moved up the road with a great opportunity to become Lansdowne's new Minister of Music - in KNOW TIME, Melanie had the choir in tip-top Praise and Worship performance shape. So naturally, she invited her brother's to come up and share in one of their celebrations.
A major concert appearance at "ST. Bernadine's Catholic Church" proved to be a big step for the Guy's, as this would be the very first time they would minister through their personal testimonies. Charles & Alan took the lead(s) in that effort...hearts and souls were poured out in a very deep and personal way.
The group also would perform at "Joe's Christian Coffee House," located just outside of Baltimore. What a wonderful time that was...largely because it was the first time in many month's that Melanie and the Guy's had gotten together. Talk about a reunion! The rehearsal was too much ... emotions all over the place - and so was the performance at Joe's.... talk about an anointing being sent down? Tears of joy filled the room! AND GOD GOT ALL OF HIS PRAISE AND GLORY!
As the group settled back down due to the distance of Tony being in Atlanta...they concentrated more on finishing the production of the CD, which was now know as "When 3 Become One." The title was a brainstorm of Alan's, and hit them all as being THE ONE!
Time continued on...Charles & Alan, who both were members of the Shiloh Baptist Church, continue to share their gift's with Shiloh's Music Ministry, as well as with Carlton Burgess & Complete Praise, and also on occasion with Maureen Freshhour of Chevy Chase Baptist Church.
MORNINGBIRD RECORDS…
While performing with Maureen (Freshour) at "The BrickYard", Chevy Chase Baptist Church's Christian Coffee House.... Charles was asked to perform on drums for another performing group to appear the same night. Charles, who was attending the rehearsal with Maureen and Alan, had just received the news during the rehearsal; he had to go back home prior to the performance.... chart out the (5)songs for this group he'd be subbing for, and make it back to Chevy Chase from Woodbridge...in (2)hours!!! Wheeewwww....but HE DID IT!
The group was "The Praise Project," from Columbia, Maryland. Charles met their leader, Chance Glenn after the performance and during the course of their conversation possibilities of performing with the group on a regular basis as well as talks about SG and their CD were covered.
They had meetings together and discussed options....soon after, a union with Morningbird and Chance, as well as the Praise Project, were made. And here they are today...BLESSED with solid friendships and as business partners, all of whom are dedicated to promoting God's message through music.
Morningbird Records presents to you, in the spirit of Christ and ALL THAT IS GOOD....
"SACRED GROOVE"...Tony Waters...Alan Cooper...and Charles Marvray
---
Sacred Groove
When 3 Become One
The mission of Morningbird is to bring glory to God by composing, producing, promoting and distributing the music that He inspires through His gifted vessels. Morningbird is authoring a new sound, the Christ-Centered sound, which is diverse, and cuts across racial and cultural lines.
No, don't stop reading. I will not try to convert you to christianization. Neither am I an confessing christ nor a missionary. But Gospel Music with jazzy elements is a music genre, which is very near to Smooth Jazz and should not be neglected. During my recent months I have come in contact with Gospel Jazz or Christian Jazz tunes especially on mp3.com, which are impressing professional. So now it's the time to tell you more about some of these masterpieces.
Many groups originate in the framework of church-music. Accompanying a church-choir or the church-community, artists find together and are developping the idea of an own group. This is also the story of Sacred Groove as you can read in their bio, written with their own words. In July 2000 they released their debut record When 3 become one. Sacred Groove are Charles J. Marvray (drums), Alan Ace Cooper (bass) and Tony Waters (keyboards and piano).
The intro tune Anointing starts with Waters sensible key-strokes before Marvray and Ace add their Groove. The tune is enriched with Charles Wright 's beautiful guitar solo and Larry Seals furious saxophone play. The tune is changing between slowtempo and uptempo phases.
Nothing But The Blood is still carrying the carracteristic of a hymn, but Tony Water is successful in transfering the hymn to a new jazzy arrangement.
With Have Thine Own Way, also an arranged standard hymn, the group convinces even more with this transposition.
Melody Of Praise is obviously an vocal hymn to praise God's greatness. Melanie Willets showcases her vocal without expressing the content with words.
Impressing is the percussion intro and interludes at The Den. An interesting Fusion Jazz piece with a strong melodic line and funky attitude. Ace brilliants with skillful bass runnings. Charles perfect drum solo follows. Wow, this tune alone is enough to justify the buy of this album.
A phat slap bass combined with nice keyboard riffs introduce to Heaven, originally played by BeBe and Cece Winans 1988 on Capitol Records, unforgetable and often copied. I must admit Heaven is one of my favorite pieces and it's for me always a pleasure to hear new renditions of this song, especially when it is played in such a perfect manner.
It'll Be Joy is the next uptempo follow up. Al Williams on saxophone and Charles Wright on guitar are accompanying the crew and Tony Waters masterfull keys strikes. This is unblended pure Smooth Jazz as you will like it. You can hear natural drums and bass and no audio control engineer reduces the sound.
Also a treat for the ears of Smooth Jazz fans is Stride Of Life. An unblemished mixture between slow and uptempo, perfectly put down in scene by the rhythm ace Charles.
Tis So Sweet is anew a modern arrangement of a standard hymn. A slow tempo tune featuring Melanie Willets on vocal. Sacred Groove turns back to it's roots.
Hard break, drums, guitar licks.. We reach the final: Give Him The Glory! A melodic uptempo tune. There is no doubt Sacred Groove is a professional Smooth Jazz group.
Well, if Gospel music is always sounding like this, they have found a new fan.
© HBH