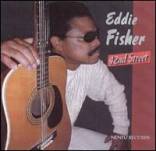 Eddie Fisher spent the years from the age of 10 getting interested and involved in music, influenced by his father. At 17, he left home to follow his calling.
He honed his guitar technique first in Memphis with Isaac Hayes and Steve Cropper, among others. He also toured as a band leader for both Solomon Burke and Albert King. This is sounding good, right?
He launched into the world of jazz through his association with the owner of the Blue Note Club on, where else, 42nd street. Appropriately, this gives the title for his sixth solo album and the third for his own Nentu Records label.
The breezy opener Who Loves You showcases Eddie Fisher's warm semi-acoustic sound. I love the percussion on this track. Some of the keyboard work is a little corny – but no way does it detract from that guitar sound!
Christina is a rather grand ballad and here the guitar is struggling with a synth bass which is too prominent for my taste. That guitar burns though and if you don't start to think of comparisons with Norman Brown's playing by now I'd be surprised.
It seems like no blues guitarist escapes from writing a song with "blues" in the title. Fisher's Ah Blues Thang is a great electric blues workout. That synth bass chugs along underneath some guitar work which is cooking! The more I play this, the more I love it.
Eddie's Jam races along on a funky synth drum and bass track. It makes me smile – the chord sequences are very jazzy and the clean-picking solo makes we wonder why I never heard the talented Mr Fisher before.
You'll think the same thing when the old skool vocal intro makes way for lush George Benson-style scatting on Make Up Your Mind. This lovely ballad draws you in and the sax adds that extra tension. Moody, oh yes, I love this one!
Back to the funky, swinging groove for Hotcakes. The tempo is quite slow and the uncluttered production let's you hear exactly what's happening on that sexy semi-acoustic. The song is really a jam but the lack of a tune to hum won't stop you turning it up!
I'll Be There is really a soul tune with great guitar, rather than an out-and-out jazz number. I already drew a comparison with Norman Brown – and I'll do it again here. Eddie Fisher has a monster sound and deserves a loyal audience – let's start at my house! I enjoyed the female backing vocals here – 70's old skool and lovely.
The title cut 42nd Street has a piano-led intro which builds to a moody ballad with some intensity. This song is pieced together beautifully and the bassline is subtle and dramatic at the same time. I'd love to hear this done with live drums and bass.
Mr Smooth is a wake-up call after the dreamy title cut. Very funky with fairly crazy drums, just enough percussion and a killer melody. It's a very staccato rhythm which would be good to dance to. I can imagine a live set opening with this song – the right bass player could put in a jaw-dropping solo here.
The pretty For You Baby is maybe a little corny and a bit TV sitcom. The solo loses its way a bit but, hey, I didn't hit that "skip" button.
Phase II is a more straight-ahead jazz tune which is the most challenging number here. This time the bass sounds like it came from four strings not a synth and it's complex. I'm sure I can hear two-handed tapping on guitar here, but it's not as pleasing as Fisher's clean picking style. The song meanders too much for me but it does point to pretty serious jazz credentials.
Even though I understand the reasons for it, I'm often frustrated when a talented songwriter and player (and Eddie Fisher, let me tell you, is both) provides all the instrumentation themselves. Some of the "live" vibe gets lost. This very good CD could have been a great CD – a guitar player this hot needs a drummer, bassist and keyboard player they can trade licks with. If you play 42nd Street two or three times, you may find you're wanting Ricky Lawson, Alex Al and even Patrice Rushen in there. Now, maybe if I won the lottery...
Nentu Records NTR 0012 – Producer Eddie Fisher
Reviewed by Chris Mann