A Little Space by A Little Space
– Reviewed by Chris Mann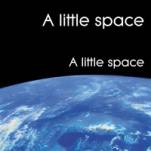 Pasadena-based Alan (Big Al) Gruskoff is not only an IT specialist but a composer and multi-instrumentalist too! His compositional talents were recognised in 2001 when he was a prize winner in the Jazz category of the John Lennon Songwriting Contest.
His band A Little Space delivers his personal version of jazz-fusion. Gruskoff himself cites his major influences as Steely Dan, Al Jarreau and Sting.
This is the band's first album and already they are enjoying number one listings on MP3.com. They were recently gigging in Las Vegas – now I'm jealous!
There is an immediate, "live" feel to Pictures of You which is a mid-tempo rock song. It makes me think of Roachford with its swathes of distorted guitar and muscular bass. When I first heard this song I'll be honest, I didn't like it – I hated it in fact. Now I find myself singing it…
Sure there Is is melodramatic with huge keyboard chords and a slow, deliberate rhythm. The lead vocal sounds flat at times and the song doesn't hang together well. Shame, because I like the lyric a lot.
If you bought Incognito's first album "Jazz Funk", Dean Roubicek's sax on the intro to My Own Sweet Time might make you smile. I find this song tuneless however, and the mechanical drums wearing. Alan Gruskoff is a very good player but the bass is too far forward in the mix and dominates the song.
The bass is cleaner on She Walks, She Talks, the drums still grate but the melody, especially on the chorus, is strong. It's hard to pin down what doesn't work for me here. Terrell Moran has a good voice, no question, but it sounds like he's used to doing other (more soulful) material. It doesn't quite gel together.
Story of my Life starts out sounding oriental, then more of a power ballad emerges with jangly guitar and big chords. I'm still struggling to enjoy the vocal but at least the heavily-processed Stratocaster solo is a nice one.
The chorused guitar works really well on the mellow Need to Know. The vocal starts to sound like Robert Cray. If I wanted to describe the overall sound, I'd have to compare it with Ernie Isley's "High Wire" CD – and I'd have to say that Ernie does this better. This lacks focus.
Ernie Isley? Waiting could be a tribute to him – at least guitar-wise. I'm reaching for the "skip" button when the plot is lost on the chorus. I'd like to hear Terrell Moran sing someone else's material to fully appreciate his voice.
The sexy fretless bass and clean guitar on Hanging Around are wasted on a song that's too slow. A rhythm this ponderous stifles a vocalist. This reminds me of '70's Dutch progressive rockers Focus – musically at least.
Scrap the drum machine, push the bass back in the mix. Big Al handles vocals on this song – and he's struggling with a bizarre melody line on Sometimes it's Beautiful. Hmm…
A nice surprise is waiting on the more conventional and classy Yes I Would. It's got a sassy Latin sway and that's added to by a clean guitar, good horn samples and authentic-sounding percussion. This was the song that won the prize in 2001 and it's easy to see why. That soprano sax smokes and this instrumental is cookin'…
Wall o' guitar, slap bass and a brooding funk groove – welcome to Pick and Roll. The massive reverb on the guitar has shades of Funkadelic's "Coming Round the Mountain". Big Al's influences seem to be wider than those he acknowledges on his press release.
Curve in the Road has moody piano, quirky but committed tenor blowing and funky clavinet sounds all laid over the top of a busy rhythm - the bass, drums and rhythm guitar crowd each other a little too much.
Melodramatic and with more than its fair share of string samples, Heart in my Hand is, in Gruskoff's words "A requiem for the victims of Sept.11". Before I saw his website, I wrote "look for this song as the theme to the next big hospital drama". I prefer Al's view of things and I feel the sadness of what he's expressing here.
Only Level 42's Mark King could get away with things like Where Have you Been and he could only do it in the '80's. Maybe I should stop there.
As a first CD, especially one boasting an award-winning song, there is so much promise here. A lighter touch on the mixing desk would give a better balanced sound as would – yes I'm going to say it – live drums. A mix of vocals and instrumentals is right for today's NAC market. In this case I think Terrell Moran (who has a gospel background) should be given more room to stretch out and not tied up by complex chord changes which may be better expressed instrumentally.
Independent Records IR09712 – producer Alan Gruskoff