All The Good Things by Ruth Hammond
– Reviewed by Chris Mann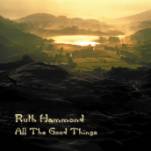 Composer, singer and multi-instrumentalist Ruth Hammond gained a bachelor's degree in Jazz Studies at Leeds College of Music. On leaving college her saxophone talents were recognised by two prizes "Top Saxophonist" and "Most Outstanding Performer".
She was runner up in the "Young Jazz Musician of the Year" awards in 1998.
She has been a member of the hugely popular National Youth Jazz Orchestra (NYJO) in the UK and has had a weeklong spot at the legendary Ronnie Scott's Jazz Club.
Her work can be heard soon on Morcheeba's 2002 album. Her own debut album "All the Good Things" is in my CD player right now…
School's Out has a very measured, bluesy sound which features Ruth Hammond's lazy keyboards and even lazier vocals. Her delivery is smoky and the electronic effect applied during the chorus sections can't take away from that.
The 70's rhythm guitar and in-your-face funky bass of Itchy Feet made me smile. That busy backing and the nonchalant vocal delivery made me think of Swing Out Sister. The insane electric piano, however, is totally original.
Living Your Love is more mellow and thoughtful and the vocal on this song is a joy. It's hard not to think of classic singer/songwriters such as Carole King, Joni Mitchell and Judie Tzuke. Superb backing vocals too. Pop with a jazz tinge has worked for years – and never better than here.
Ruth takes an old skool twisty bassline and Brass Construction rhythm guitar, slows it all down and preaches a very thought-provoking sermon while her backing singers get all "gospel". Listen to the lyric on Another Day Gone – strong message – strong song.
You're more likely to remember the electric piano than the vocal on More than Sport – it's well up in the mix and the riff is very repetitive. In the chorus the energy goes up a notch and this song gets better with repeated listenings.
Human Condition is a very soulful tune, with a slow, strutting rhythm and that smoky Hammond organ sound. The backing vocals are very strong but the message in Ruth's lyrics comes through unhindered. By now, you'll have realised what a versatile drummer Scott Hammond is!
There's a sweet fade into St Clears. Stop thinking about categories and just enjoy a strong original ballad, well written, tastefully produced and performed with feeling. The sax solo (from Ruth herself) is enough and no more – the song's the star though. I think this is my favourite.
I'm getting into this offhand vocal delivery. Don't know why but Steely Dan popped into my head listening to Only So Many Ways. They are one of the bands Ruth Hammond was inspired by. The organ is more to the fore – and I like it. It's one of the trendiest instruments around. Er, where'd that sitar come from?
The title track is whispered more than sung and it's a very dreamy piece. The vocal and gauzy Rhodes are placed in a big, airy soundscape and the light cymbal work adds to the trance-like quality of the song. I liked the inspirational words "your dark moments are not how you're defined…". It's best to listen to this song on your own, with some tissues to hand. It's emotional stuff.
It's hard to know how to sum up. I'll start by saying I really enjoy listening to this CD – present tense, I didn't just listen to it once. That's the message really: this CD contains more than you think when you first hear it – more lyrical depth, more musical confidence and more original talent, despite the fact that certain influences are apparent. If you have a friend who owns this CD, make sure you go and see them soon – and take a good bottle of wine…
Tenterhook Records THRCD1 – no producer credits
available from www.ruthhammond.com