All for Love by Stanley B
– Reviewed by Chris Mann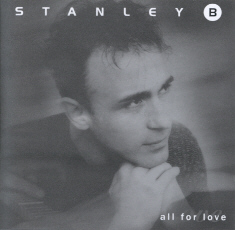 Composer, multi-instrumentalist and producer Stanley B has been performing since the age of four. At the age of nine he joined the city boys choir and in a couple of years he was a backup pianist for the choir main pianist. At fourteen when his big brother did not show up for his band rehearsal, he covered for him that day, eventually replacing his brother in the rock band and performing every weekend on large concerts.
The band went on to gain such a following that they had to make special efforts to accommodate their burgeoning fan base.

He has gone on to compose and record solo albums, movie scores and TV commercials. In addition Stanley has performed in a chart band, jazz bands and has played in some of the most prestigious piano lounges around the world. He has also produced over a dozen albums.
This is "B" stamps his funky style on the CD straight away – it's a solid introduction to his clean piano sound laid over the top of a backing which makes heavy use of technology but which still has a human feel. I'll start out by saying that his piano sound has elements of Brian Culbertson and elements of Bob Mamet – yet he sounds like Stanley B.
In contrast Do You? is very gentle and romantic. It's a vocal too, featuring the falsetto of labelmate Ray-Ray. I was really drawn to the subtle acoustic guitar fills of Dori Amarilio.
The title track tugs even harder at the heartstrings – piano is centre-stage. There are suble string and wind tones in the background. The nearest comparison sound-wise here would be David Benoit. Maybe I'm perverse in mentally putting together film scores and live sets when I review albums. This has film score potential – a fact that someone soon will pick up on I'm sure.
I love Don't I Know You? with harmonica sounds, searing electric guitar and a tough backbeat. Oh, did I mention that the sultry vocals of Anita Pointer can be heard here? Ever since I stood windswept and wet outside the stage door of a UK theatre to get the Pointer Sisters' autographs I've been a fan. Listen to the fast and note-perfect piano run at the end of this song. Classy stuff Mr B!
A Steve Reid-style soundscape opens up the lush and mysterious Mound View. Technology is used here but not for technology's sake; the drum sounds (augmented by live cymbals) are great and the keyboard bass solo (which I've listened to intently) makes me smile every time. There's a lovely flute sample which doubles the piano line. If I dissect this any more, I'll ruin it – it's a superb song.
OK, I look for film music and big live hitters – well, this has got to be the single! Got 2 Survive has a nice chugging groove and it features the sweet vocal of Kenya Hathaway. Ernie Watts blows mellow on sax but don't be fooled – the lyric is thought-provoking. Hints of Incognito – I hope we hear Ms Hathaway again soon…
Bring it On is tight jammin' material and I particularly love the atmospheric electric guitar licks and spooky, big piano chords. The changes are nice and just make the verse sound even tougher the second time around. This is done with too much conviction to believe it's just two guys!
I could make a similar statement for Just Say It with some nice cymbal work from Paul Van Patten adding the top layer to a backing made up of Stanley's inventive percussion programming and synth bass that sounds like someone very groovy on an upright. As on several tracks here, the movement between staccato single-note playing and dense chords works its magic. Classy stuff (again) Mr B!
Oh, I'm hearing film music again. Why Not has the piano in a massive acoustic with a synthesizer wash in the background and drums which, for the first time, sound mechanical. The whole thing works because the snare constantly jerks you out of the trance created by the piano/synth combination. A mix with a more muted snare would be very sexy indeed!
This CD, in Stanley's words, "was created with lots of love and no money". The first part is obvious – the second is not. Few people use technology this well to create a varied and satisfying album. There are original touches everywhere and it's taken me a few plays to realise that eight of the nine songs have an ending and don't just fade out. That's good songwriting.

Stanley's next album "Smile" is scheduled for release by October 2002. I hope I'll be able to hear it very soon. Watch this space…

SGB Records 20202 – producer Stanley B