Altered State by Yellowjackets Ė reviewed by Chris Mann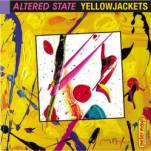 Iíve only just stopped listening to ĒPeace RoundĒ (for now anyway), though my Christmas tree got recycled close to two months ago. It was a different kind of holiday record and a great piece of work from a different kind of contemporary jazz group.
It whetted my appetite for ďAltered StateĒ, the bandís fourth release for Heads Up International.
Guest percussionist Mike Shapiro kicks off Suite 15. Itís immediately recognisable Yellowjackets; offbeat time signature, strong elements of melody, dancing cymbals and a mischievous wandering bassline. Sometimes the bass doubles the piano, sometimes Bob Mintzerís gorgeous tenor doubles it. It grows to a crescendo and is a great opener. There is an almost reggae feel on the opening to March Majestic, which becomes more majestic as it progresses. That sax sounds fabulous - if I learned to play sax, Iíd want to get that sound. As the rhythm calms, thereís more space in the sound and a great string synth.
The vocals on Yellowjackets songs are usually strong and the contributions by Jean Baylor and the Perry Sisters (no longer PerrŪ) on Hope are no exception. The lead vocals sit neatly with the staccato rhythm and that gospel chorus wells up beautifully as the song moves to its close. The mood on Hunterís Point is almost menacing. It has a constant rise-and-fall of tension; the sweet soprano sax and mean bass clarinet lines wind around a sparse drum pattern. Oh Lord, Russell Ferrante takes an electric piano solo thatís mid-70ís Herbie Hancock all over! Mintzerís getting all Bennie Maupin too. The complex time signature and key changes keep you on your toes. Itís challenging Ė but worth hanging in there forÖ
Mother Earth is a less complex tune which has Jimmy Haslip finding those nice fat notes on the bass. Does anyone engineer a better drum sound than Bill Schnee? Those cymbals dance from speaker to speaker Ė close your eyes and you can practically see Marcus Baylor workiní it! Clean bass picking kicks off the busy Youth Eternal, which kind of reminds me of an old Steps Ahead tune, and thatís a good thing. Live, this is going to be massive, if it isnít already. The sax solo is loose and this song is really a jam!!
No idea how they get the frantic vibes and electronic percussion sound on Free Day. That pace canít be sustained and the mellower mid section is a nice change of tempo. The tenor sax really speaks out on here. Listen for the superb snare drum workout from Baylor on the fade. Nuts! That Bennie Maupin sound is back on the strutting Cross Current. The rhythm is pure funk and the bass clarinet and EWI really ride the rhythm as Kool and the Gang used to say. This swings like crazy and itís my favourite song from the album. Ferranteís electric piano is, well, itís just bliss on a stick!
Fretless bass leads you into Aha, which is a typically elegant ĎJackets workout. Itís dark but playful, complex but grooving, melodic but blowiní Ė hell, itís the Yellowjackets! The piano is everywhere on the lovely 57 Chevy. Itís a Ferrante composition and it showcases his piano sound beautifully. Itís a nostalgic sound and it intoxicates. If you like EWI, youíre going to enjoy Unity. For me, the lyrical soprano sax here is as sweet as any Iíve heard. A subtle string synth adds to the drama as Haslip explores the upper range of that superb Tobias bass.
This is the third outstanding Yellowjackets release Iíve had the pleasure of receiving in my mailbox, playing loud and writing about. If youíre a Yellowjackets fan already, nothing Iíve said will surprise you. The Mintzer/Ferrante/Haslip/Baylor line-up continues to serve up daring but accessible music. Every song on the CD improves with repeated listening Ė the quality of musicianship, production and sound engineering continues to astound.
As an aside, Iíve been experimenting with a device to give a cleaner mains supply to my hi-fi system. Iím glad I did, because it has to be worthwhile doing anything that gets you just a little closer to music this good.

Heads Up International - HUCD3097 Producers - Yellowjackets, Executive Producer - Dave Love (also available on SACD, HUSA9097)