Beautifully Human (Words and Sounds Vol.2) by Jill Scott Ė reviewed by Chris Mann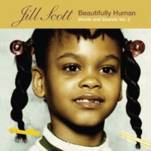 Philadelphian Jill Scott began her performing career reading her own poetry. She was heard by Amir, drummer in the Roots, who invited her to join the band in the studio, resulting in the co-composition "You Got Me," a Top 40 pop hit in 1999.
She later collaborated with Eric Benet, Will Smith, and Common and broadened her performing experience by touring Canada in a production of the Broadway musical Rent. Signed to Steve McKeever's newly formed Hidden Beach Recordings label, she released her debut album, Who Is Jill Scott? Words and Sounds Vol. 1, in July 2000. This, her second studio album, was released in late 2004.
Warm Up is just that Ė a run through of some Eastern tonalities and vocal percussion. The monumental Iím not Afraid grabbed me immediately with a heavy hip-hop bassline, a snapping snare keeping it moving and other-worldly keyboards. Once the clarity and power of the lyrics hit me, that was it! ďIím not afraid to be a lady Ė Iím not afraid to be your whoreÖĒ are lines which pin you to the chair and make you listen. Jill really preaches on Golden. This is the type of vocal and arrangement that makes guys like me into soul music fans. There is not a dull moment on this upbeat, finger-snapping totally optimistic track. You can, you should, you must dance to it!
The vocal is softer, sexier and really appealing on the dreamy The Fact Is (I Need You). Youíll already be getting used to the fact that Jill creates an atmosphere within 4 bars of a song and this is no exception. I love the harp and the sexy backing vocalsÖ The slow rhythm and elegant string section create all the beauty thatís needed on Spring Summer Feeling but of course that breathy vocal gives you more and you should just let go and let this wash over you. I almost believed that people had stopped making vocal music this goodÖ Minnie Ripperton is cited as one of Jill Scottís influences and this track, to me, shows that.
That piano riff will hypnotise you on a tale of love remembered, Cross My Mind. That and the simple drum and cymbal pattern are all thatís needed to keep you spellbound as the vocal enchants once again. The bassline is almost not there but because of that itís really there! Bedda At Home kinda shocks you out of the reverie. It chugs along purposefully and has a crazy 60ís rhythm guitar sample in there.
Talk To Me is another strong, very relevant lyric laid over an ominous rhythm that opens out into a really classy big-band tune with sparkle and style. You will not hear anything like this in the near future. Youíre hearing the early work of a performer who will be knocking you out in years to come. The arrangement is fabulous. Thereís a lovely old-fashioned feeling on Family Reunion, with party noises in the background and a Mizell Brothers-type string arrangement. This is from the heart and really old-skool.
I adore the Isleys-style heavy bass and sparse production on Canít Explain. Producers of slick music with every keyboard you can find Ė please listen to this. The horns and string synth are used perfectly. This timeless soul sound carries on with Whatever. Itís the story of a liberated woman who still wants to please her lover Ė itís sexy powerful stuff.
The drum sound dominates on Not Like Crazy and the bass is used very effectively, as it is on earlier songs. Maybe itís too heavy but it doesnít matter because the heavier the backing instrumentation is, the sweeter that voice sounds in contrast. Itís a testament to the guys who engineered this CD that the instrumentation/vocal balance is never lost. Nothing (Interlude) is a great example of this Ė a spoken lead vocal over a huge drum sound with whispered backing vocals panning very wide.
Rasool is a very intense urban fable which calls for repeated listenings Ė itís very sobering. The mood lightens with the pretty piano and acoustic guitar backing on My Petition. This is possibly even a better example of Minnie Rippertonís influence than Spring Summer Feeling. Itís certainly a good example of how less can be more in music production. Think of some of the old Herbie Hancock tunes of the mid-70ís and then imagine them with some inspirational lyrics from a true poetess. Thatís what you get on I Keep, which has the sparsest rhythm guitar and drums with soft female backing vocals which provide gorgeous accents throughout. Still Here is separated from I Keep by 30 seconds of crackly vinyl record sound and though itís part of the same track itís really a poem set to music Ė itís a heavy, urban lullaby. Lovely.
To my shame, though I bought Jill Scottís first CD about 18 months ago, I have only listened to it in passing. I have to go back and revisit it because the latest CD is a modern classic. I keep referring to ďsoul musicĒ and ďsoul soundĒ. I know that the modern term is ďR&BĒ but Iíll make no apologies for staying with terminology Iím at home with. Musically, this is as classy as anything you could hear in the 1970ís and lyrically itís as good as anything you could hear at any time. Itís not as shocking as, say, Millie Jacksonís music but I promise you, this is more than just a grooveÖ

Hidden Beach Recordings Ė HBR00012

   

Executive Producers - Jill Scott, Steve McKeever, Jazzy Jeff Townes, Lyzel Williams