Brighter Day by Above the Clouds
–
Reviewed by Chris Mann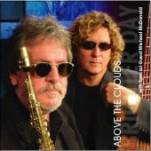 Above The Clouds, here with its second album, brings together the talents of five highly-accomplished Southern California session musicians. Those five musicians draw on a wealth of experience from many musical genres.

Bassist and producer Vernon Porter has played with Kenny Loggins, Bette Midler and Dave Mason, as well as fusion luminaries Neil Larsen and Buzz Feiten.
Saxophonist and flautist Vince Denham has toured and recorded with singer Michael McDonald for 15 years, and his work with Al Jarreau, Les McCann, Kenny Loggins (though in a different band than Porter's) and John Tesh is well known.

Guitarist Todd Robinson has not only played with David Benoit, Etta James, and Vince Gill. He played on John Lennon's mid–70s classic Rock & Roll album.
On keyboards, Karen Hammack has a similarly diverse background, playing behind 70's stars like Melissa Manchester as well as smooth jazz saxman Eric Marienthal.
Drummer and percussionist Kendall Kay has played with everyone from Phil Upchurch and Bette Midler to Clint Eastwood's son Kyle.


Porter, Hammack and Robinson formed the original nucleus of the band following the praise they received as the backing band for flautist Tim Weisberg's tours in 1997 and 1998. Weisberg's manager Jonathan Little suggested that the three form their own band and Porter called long-time friends and colleagues Denham and Kay to complete the ensemble.

The opener Melon Cover is a breezy, funky number with a purposeful bass and drum groove. The brass work is reminiscent of Tower of Power and the strong bass and trumpet solos get this set off to a powerful start.
The mood is even more "up" for Crusade with those same sassy brass lines doubling the clean guitar line. If you can hear this and not want to move – see a doctor. That guitar solo shines out – it's a sound that's up there with the best modern blues players. The organ adds a real retro touch – Hammond B3? Ah, who cares – it rocks.
Maybe you'll be surprised – I was – to hear the instantly recognisable lead vocal of Michael McDonald on If I Ever Lose this heaven. The treatment is a good one – subtle and with sweet harmonies from the backing singers. The tenor sax solo comes at just the right moment.
New Beginning is a funky, mid-tempo groove and is nicely moody with some very jazzy chord progressions. The break which leads to the nice'n'sleazy trumpet solo is tough and will please the funk fans – yeah, me over here!
When you've got a snare that snaps like this, overlaid by a strong melody on an ultra-clean electric guitar (Larry Carlton-style) you're onto a winner. The Invitation has this and a catchy chorus too.
The mood is more sombre and bluesy on the sax-led Easy Now which explodes with brass after the first verse. The heaviest of walking basslines supports the lovely electric piano solo and the next verse on that achingly beautiful sax. There are real dynamics on this song – it's a delight. I love it!
We already know how good the backing singers are and they shine on the gospel-tinged intro to Brighter Day. Vernon Porter is some bass player. He holds down a good funky groove and then hits you with a solo played high up the neck which is a real smile-inducer. Was that Mr McDonald on backing vocals near the end?
More big band, sleazy funk on offer on Groovin' with Vinnie. I find myself focussing on a "nasty" baritone sax. The organ solo is lazy and sits on this groove as comfortably as my cat sits on the arm of my couch. An absolute stunner live, I have no doubt.
The wistful piano intro to Sierra in Winter leads into a grand ballad featuring a sexy tenor sax which has a slight ragged edge like Gato Barbieri's sound. Time to mention Kendall Kay who swings like crazy on this song and is masterful throughout the CD.
The first touch of acoustic guitar on the album is refreshing and the guitar-led melody on Loreto Sunset cuts through superbly. The intensity of the song builds as first the trumpet then the sax double the guitar line. So classy!
Bring on the funk! I'm in heaven with a slippery drum track and bass way down low on My All-Star. Sprinkle on a hot electric piano solo and a large helping of brass and the recipe is complete.
About ten years ago, brass ensembles such as Loose Tubes were making a big noise but were denied the commercial success they deserved. On this CD, Above the Clouds deliver a polished but gutsy example of what I can only call "big band funk". If your nearest smooth jazz radio station doesn't play this – shame on them.
Label Earth Records/Fahrenheit Entertainment – cat no 082002– producer Vernon Porter