Gotta Play by Brian Jackson
– Reviewed by Chris Mann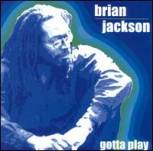 I'll make no apology for starting this review with a personal recollection. When I was 15, I used to dance at a club 40 miles away from my home. One of the tracks which never failed to fill the floor was "The Bottle" by Gil Scott-Heron. Those in the know acknowledged Brian Jackson's contribution to that song – that flute sound was something unique in the mid-70's. It still sounds fresh today.
Brooklyn-born producer, composer, and musician Brian Jackson collaborated with Gil Scott-Heron on the album which spawned that single: "Winter in America" and on several other albums including "From South Africa to South Carolina" from which their most commercially successful single "Johannesburg" was taken.
Since that time, Jackson has worked with Kool and the Gang , George Benson, Janis Seigel of Manhattan Transfer and Will Downing, whose self-titled first album, produced by Will and Brian, went gold in the United Kingdom in eight weeks.
"Gotta Play" is the first album he has released as a solo artist – I couldn't wait to hear it…
From the opening bars of the title track, I'm hearing voices from the past – and they're voices that still matter. I hear a background synthesizer wash that is an echo of all I loved about 70's jazz and soul. I hear Roy Ayers' gruff vocal and totally unique vibes. Brian Jackson's lead keyboard has a real "Dukey Stick" thing going on and I love everything about this song – from its lazy rhythm to David Mullen's increasingly frenetic sax!
Kama Sutra is a funky keyboard-driven track with exotic synth sounds and a bassline and percussion which I can only describe as insane. The piano solo on this track is as energetic as anything I've heard Herbie Hancock play. David Mullen's solo is a wild one – you'll have to hang on for the mellow fade with its lovely vocal chant and "that" flute.
I expect radio to pick up on Moody Too in a big way. The "dukey" keyboard is back to super-sexy effect and bassist Don Martin and drummer Trevor Holder do a lovely subtle job on this song. They co-wrote this song with Jackson – as they did the majority of songs on this CD.
Feelin U is a mid-paced soul tune with a smack-bang-up-to-the-minute tight bass and drum groove. I love the choppy rhythm guitar, and the vocal from co-writer Num Amun'tehu is very strong.
There's more lazy urban groove on Free 4 Fall. The soul harmonies set the tone for a beautiful, piano-led melody. Dreamy bass and deft rimshots keep this moving sweetly and after three-and-a-half minutes, I still wanted more. Utterly gorgeous!!
Somehow, you know, it's right that Gil Scott-Heron's deep, rich voice should be heard on the rap which opens his own Home is Where the Hatred Is. This modern take on this classic 70's song features a superb lead vocal from Brian Jackson. Listening to it, I think how timeless a song this good can be.
Oh Lord, I'm in Blue Note heaven when Yada Yada begins! The vocal harmony, staccato piano, whisper-soft rhythm guitar and those chords. Brian Jackson is one heck of a soulful piano player – one listen to this track tells you all you need to know. Yes, this is my favourite – rewind!
An unexpectedly grandiose piano intro leads into a laid-back but funky cover of the Gap Band's Outstanding. Num Amun'tehu is on the mike – Ayers is on vibes – the groove is right. What more do you want?
The groove is right on Delushuss too. Don Martin's fluid bass drives this mid-paced smoothie. That lead synth sound takes some getting used to – but, hey, that piano is pure gold.
Num's Interlude gives us a chance to hear the percussion talents of Num Amun'tehu. It's the kind of ethnic vibe that New Age fans lap up – and I love it. I keep waiting for the white tigers to show up…
I like the shifting styles in Fresca Girl. It starts out with piano/vocal scatting in the Joe McBride vein but when it moves to the solo, the sound hardens up and I'm thinking of John Beasley's audacious compositions – then we're back to the funk, the scatting and I just think Brian Jackson is a strong writer and a versatile player. This is classy, confident music. Me? I love it.
The radio edit of Feelin U was great, and too short. The bonus long version is giving you – to paraphrase George Clinton – "more of what you're funkin' for". Greedy folks like me will be happy.
Two main thoughts hit me when I listen to "Gotta Play": man, where have you been? It's obvious from the inlay that he's been living life, learning and reassessing like all of us.
The second thought is: on your next album (please make it soon) you could do anything – crazy funk, smooth jazz, inspiration soul – anything!
Roberts Music Group RMG 1018 – producers Brian Jackson, Trevor Holder and Don Martin