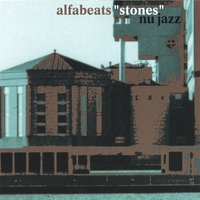 … Stones by Alfabeats Nu Jazz

I heard the music of this band some weeks ago and it instantly sounded fresh and very groove-laden. Once founder, keyboard player and composer Roberto Magris had mailed me the 2006 release "Stones" and his press kit, I started to realise that I've been missing some very good music coming out of Italy…
That music includes his own "Il Bello del Jazz" and 4 albums released by the current band in its pre-2003 incarnation DMA.
It's immediately obvious from Syeeda's Flute in Wonderland that Magris is equally at home on piano and organ, and the organ sound on this funky number is somehow retro but up-to-date at the same time. Max Marzio's rap vocals fit on top of this acid jazz groove nicely and you'll be nodding your head to this right away, as you will to the insistent and urgent L.A.P.D., the irresistible Get Coltranized and the riotous Floppy Generation Blues. The jazz and hip-hop blend so well you soon stop thinking about it. The rap on Terra Nuda is in Italian and for broad-minded listeners who can get to MC Solaar and other European rap artists, this will please.
You'll hear some great guitar playing too – Luca Boscagin burns on Floppy Generation Blues and Paolo Andriolo's electric bass solo on the same song gives me just what I'm looking for! A rock guitar sound opens the majestic title track and the complex, atmospheric Islamic Spires, where it doubles Magris' melody line on the organ.
You have to hear Red Cap & the Bad Loop for yourself. I just smile whenever I hear it – an urban nursery rhyme. As for the atmospheric Reaching the Holy Land, with its haunting percussion (and what sounds like a didgeridoo) I find it moving and I'm totally drawn in. It's very hard to play this just once…
To hear this music for yourself, go to CD Baby and if you want to hear more about Roberto Magris visit www.allaboutjazz.com (search for Magris). To keep up with this fine band, visit www.alfabeats.net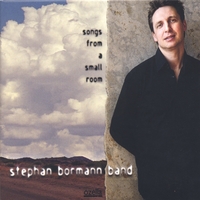 … Songs from a Small Room by the Stephan Bormann Band
This German-born guitarist and composer makes music that instantly appeals to me. It has a soothing quality that is amply demonstrated on the floating Nordic Sky. The interplay of his acoustic guitar and Mohi Buschendorf's acoustic bass brings thoughts of Acoustic Alchemy, but then Volker Schlott's sweet soprano sax takes you off in another direction. The acoustic guitar is beautiful on Taste of Summer, as it is on Five 4 Two with its tricky time signature.
Bormann's electric tone on the subtle Signals reminds me of Chieli Minucci and the soprano sax is as sweet and engaging as contemporary jazz's top players. Lovely. His sound turns to a more orthodox jazz sound on the pensive Small Room and the complex Journey into the Past. My notes for this song say "the song has funk, jazz and whispers of hip-hop and even 1970's progressive rock – a deception on more than one level and very clever music indeed". Many weeks of listening can't provide a better description than this…
I love the glittering 12-string guitar on Beyond the Horizon as it races along. In contrast, the dreamy Metheny-like sound on Two Old People in a Maizefield is a great way to end this album. We missed a track – track 4, it's called Come With Me. Back to my notes again "it has a snappy drum track combined with a slippery funk line on upright bass that will make you dance, while you're thinking of the sassier moments on Acoustic Alchemy's "American/English" CD. It's that good, I couldn't believe it!!" Quite so. Find out more at www.stephanbormann.de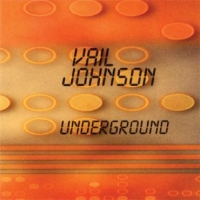 … Underground by Vail Johnson
I'm hugely enjoying the low-end hi-tech extravaganza by bassist, composer and longtime Kenny G sideman Vail Johnson. It's hard to know where to start: if you like funk (like me) and you like to hear a guy who's adventurous on electric bass (like me) I think you're gonna love this!
Funk is there on the uncompromising opener Blue Steel – it's all about layers of bass and some tough drumming. Lord! The funk veers P-wards on Break it Down, and Johnson pulls off a sound reminiscent of one of my other bass heroes, David Dyson. Imagine a collaboration between these two guys! Do you like to hear a player improvise? Think of the bass workouts on Stanley Clarke's "East River Drive" CD and you'll have some idea what to expect when those four strings are put through their paces on Bass Solo 3 and The Duel Mk II. Now you're getting it… Johnson's frantic fingerstyle on Accelerated Development maybe more than anything else on the album puts him right in the premier league of jazz/funk bassmen as far as I'm concerned. This song is very reminiscent of music on Metro's fabulous "Grapevine" CD – it's impressive and enjoyable in equal measure. Lord!!
This is a varied album though and the latin-tinged Monteiro is very sexy as are the dreamy Sol Bossa and Reflection. All three songs show off Johnson's strength as a lyrical player and they do this well because the production is uncluttered.
Do I have a favourite song? Well, I love Restless with all those bass licks and sound effects laid over a kind of disco beat sandwiched between a moody intro and outro and I play this song a lot. But the track that's ALWAYS on repeat is the radio edit of Underground. It has melodic lead playing over an incredibly funky bottom end. I bought the album as an MP3 download so I don't know who takes credit for the crisp drumming and ace keyboard solos but they are outstanding. This was one of songs that gave me the most enjoyment in 2006.
To read more about Vail Johnson and his music, to see clips of him blowing Arsenio Hall's audience clean away and to order any (or all) of his three CD's go to www.vailjohnson.net. Lord!!!
… Jamaica Blue by Ron Fattorusso
I've had this CD single by saxman Fattorusso for several (make that MANY) months and it got buried, I confess, under some (make that STACKS of) other music in my study. I'm glad I dug it out because the layers of sax sound fantastic over that lovers rock-type bounce, great bassline and steel pans. This instrumental is catchy, sunny and fabulous. Now I'm looking for the album "Up All Night"…