2 Good to Go is the brainchild of ex-Kansas firefighter Chester A Thomas.
A talented saxman, he cites Grover Washington as a major influence. This, the band's second CD gets a release in April.
The 15 tracks here range from the airy Twilight with delicate soprano sax and some nice bird sound effects to the busy and groove-laden Send me a Lovely Lady with a rhythm guitar line that sounds like it was taken right off an old B.T. Express funk track.
The tracks I enjoyed most include Hold On which has an intro full of lovely flute and percussion sounds and the classy 2 U, which has a very jazzy edge with great-sounding cymbals and bass work. The brass is very appealing on this track too – I was just hoping for a real strong melody and some strong blowing on the sax to draw it all together. Butterfly also made me smile, with its echoes of the kind of Asian sound that the Ministry of Sound has so cleverly packaged in the UK under the heading "The Karma Collection".
If you're looking for memorable songs, this may not be for you but if you want to hear a sax and production talent that just needs to hook up with the right people, keep listening…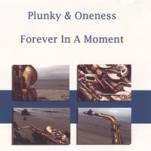 …Forever in a Moment by Plunky & Oneness
J. Plunky Branch is another sax and production talent – a major one. His sound has been heard on The Cosby Show, on avant-garde albums by Pharaoh Sanders and 18 albums released though his own N.A.M.E. Brand label covering funk, reggae, African and jazz.
This is a nice jazzy outing and gets off to an optimistic start with Happiness Is, where the sax sound is already distinctive. On It Feels so Right and Come with Me, not only are the vocals well delivered but the lyrics are original with some clever rhyming in there. I found Forever my Love totally irresistible – it has a tough synth bass groove and though the drum sound is mechanical, this is funky stuff. The vocals are strong too.
Just Ahead and to the Left is another strong groove-led tune with loads of bass where the synth drum sounds work well. The doubled horn lines are very Candy Dullfer-like and this song, which is really a jam, must be dynamite live. The song I just cannot leave alone is Relax, We're Among Friends – not only do I love that title but there's in-the-pocket soprano sax blowing over a really strong melody. That bass is crisp and moves around just right – nice, nice, nice. Very cool. Summer's coming – buy a copy of this and take some chairs outside.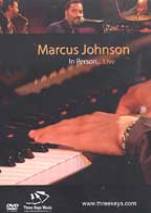 …Marcus Johnson – Live in Person (DVD)
Well, Marcus has not been around so long and his label Marimelj/Three Keys Music even less long, but you'd never know if it from this DVD. Washington keyboard ace and label owner Johnson has launched himself and his label-mates firmly into the limelight with this release.
Six of the seven long cuts are taken from his first three studio albums (highlighting the most recent "Urban Groove" and they all open out into spectacular jams that showcase the talents of everyone involved. Listen particularly for the killer solos by bassman David Dyson and drummer J J Williams on Sandy Point but you'll be delighted by the passionate soloing of the two saxmen Jackiem Joyner and Jaared on other tracks. The whole band is spectacular throughout…
Bobby Lyle (now signed to Three Keys) guests on Pavilion and Windy City and it's no laid-back two minutes – he's really going for it. The combination of feeling and musicianship throughout this show hooks you and this is one disc you'll play a lot! This is well filmed to capture the intimate atmosphere of the Blues Alley and the interplay between the artists. Marcus Johnson is a delight to watch and the fantastic sound engineering means he's a delight to listen to! If you've wondered about getting hold of this, don't hesitate.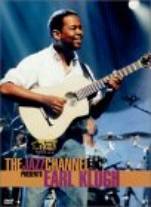 …The Jazz Channel presents Earl Klugh (DVD)
I don't think Earl Klugh's music needs an introduction. Maybe not too many of you have heard him speak about growing up and his musical influences and the nice relaxed interview with him is one good reason to own this disc. However, it's the music, that instantly recognizable, cool acoustic guitar sound that will make you glad you have this on your shelf.
The 12-song set was recorded at Black Entertainment Television's Washington studio and despite the setting looking very "cabaret", there's nothing clichéd about the performances here. It's a shame that I can't find any musician credits on the disc or in the case because this band is mighty! Klugh trades licks with a superb saxman and keyboard player. Both guys take superb solos and the saxman even does a Rahsaan Roland Kirk at one point – playing two saxes!
The young drummer and bassman are locked in tight and give these songs more energy than the studio versions had in pretty much every case. The song list? From the old songs like Living Inside your Love to the more recent Wiggle and including Mount Airy Road from his collaboration with George Benson, this is a great chronicle. I'd recommend anyone who'd just heard of Earl Klugh to go out and buy this with confidence. It's appealing to watch – Klugh's smile is always infectious – and the sound (particularly the DTS version) is sparkling!