…Shades of Grey by CM
This 2004 album by jazz trumpeter/composer CM is his fourth album under his own name.
This is an adventurous album and some of the songs take a while to grow on you. Among the more accessible, I particularly like the gently funky opener Hotel D'Space, where the warm, airy and sublime flugelhorn sends me to Donald Byrd heaven. Heart of the Matter features some seriously moody muted trumpet licks, which are doubled by the guitar very effectively. It also features the sinewy fretless bass of Bill Lawrence and I really would love to hear this live!
The busy Midnight in San Remo has a funky 70's sound, reminiscent of the Average White Band. A remix of this with tighter drums, a serious bass player and weightier keyboards would make it a floor-filler. The sax burns!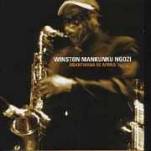 …Abantwana Be Afrika by Winston Mankunku Ngozi
Ngozi is another of the many talented players on South Africa's SheerSound label and this CD contains moments of real beauty. I love Give Peace a Chance, which is a lazy, melodic tune featuring the flugelhorn of Prince Lengoasa and the piano of Andile Yenana. The soprano sax on this song is beautiful. The most identifiably African song is Abantwana Be Afrika, with its winding horn lines. It's mellow and old-fashioned and when the backing vocals come in halfway through, this sounds like a party.
There's a truly universal sound on George & I. Soprano sax floats over the moody jazz trio backing. When I first heard this, I said out loud "these guys could be from anywhere" – how classy. There are real surprises here; on the dreamy Lakutshon' Ilanga, the horn interplay is like hearing Gerry Mulligan and Chet Baker on "The Nearness of You" from 1953. Yenana's piano is very bluesy and lovely.
Lovers of mellow jazz could find that this very quickly becomes one of their favourite discs.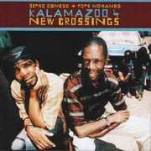 …Kalamazoo 4 / New Crossings by Sipho Gumede & Pops Mohamed
This is the fourth collaboration by Pops Mohamed who keeps the sound of many traditional African instruments alive and Sipho Gumede whose distinctive bass guitar sound has been heard on his collaborations with many musicians from outside Africa.
This is a very commercial CD and where can you hear a more commercial and danceable song than Straight Ahead? The electronic rhythm, jaunty trumpet and carnival atmosphere are irresistible. The title track prominently features Gumede's trademark woody bass sound and some very lyrical fretless work and has a nice breakdown.
The adventurous Jungle Whispers has a moody bassline and bird sound effects matched with a nice, strutting rhythm and strong sax lines. The warm electric piano sound is very appealing. My favourite song of the ten here has got to be the melodic Why Me? The piano and organ sounds are old-fashioned and Thabo Mashishi's trumpet is gorgeous and breathy. Both the soprano sax and piano solos are fantastic.
This is the 100th artist release by SheerSound whose distribution deal with Sony in South Africa and with New Note in the UK should bring their music to a wider audience.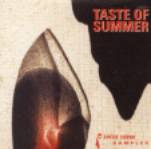 …Taste of Summer – a SheerSound sampler

This 2003 release is a GRP-style sampler of songs that show the varied facets of South African music. It's a 15-track CD and packed with music so I'd like to pick out my personal highlights.
Oliver Mtukudzi's Totutuma is what many people will recognise as African music, with its beautiful, tight, male/female vocal harmonies. You'll want to try to sing the lyric as that bouncy rhythm carries you along. In stark contrast is Jonathan Butler's urban groove treatment of If I Ever Lose this Heaven. He's been a great ambassador for African music and the rich semi-acoustic guitar and great vocals on this song show why…
In my notes I wrote that Nana Coyote's Luph' Uthando was "confident and MASSIVE". The big beat, accordion, brass stabs and huge bass just bowl you over with their sheer exuberance. Similarly, I described Cesaria Evora's Nha Antone Escaderode as "African disco with a Portuguese overtone". It sounds old-fashioned with a simple lead vocal and lovely strings.
The western soul influence creeps back with saxman Najee's Someone Watching Over Me. It's a big song with drama and sweetness at the same time – as classy as you'd expect. What's the hardest track to categorise? Probably Bul Ma Miin by Orchestra Baobab. It's got everything: '60's-style rock and roll guitar, reggae and latin influences and a vocal sound which comes straight out of a Bollywood film. The guitar solo is pure Duane Eddy and I adore the sax on here!
If you can find this sampler, you'll get a great taste of South African music but, as I've heard, it may not be quite as you expect…