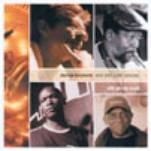 …Darius Brubeck and Afro Cool Concept – Still on My Mind
Is that a name to conjure with or what? South Africa's Sheer Sound Records delivers another world-class set of performances. From the start, Barney Rachabane's sax burns – particularly on the bluesy Jeep's Blues and Georgia on my Mind.
You'll feel the Johannesburg sunshine on the loose and kinda funky Hosh and on the grander Tugela Rail where Brubeck's piano is mellow and melodic. Years Ago is deeply romantic and old-fashioned – the clue's in the title folks!
As a very young boy, I already knew that Take Five was "different" music and as I get lost in ACC's 9-minute version I still feel the same. There's blissed-out piano reminiscent of Lonnie Liston Smith and, yes, there's a drum solo. Are you intrigued? Well, let me ask you how many jazz groups can say that they had the honour of using a beautiful composition by the King of Thailand as their title track. This is special!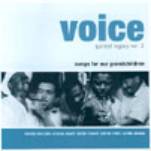 …Voice – Songs for our Grandchildren
Here are more shades of the multi-faceted music we call jazz on another Sheer Sound release from 2003. The opener, Kippie Morolong Moeketsie's Scullery Department has a lovely West Coast swing and a great sax and trumpet interplay. I instinctively feel I've heard this before – it's that kind of song. Sydney Mnisi's alto sax brings tears to the eyes on Ida, a song for his late mother. I'm trying to find an appropriate description and the word "classic" keeps coming to mind.
You are the Way could have been played by Gerry Mulligan and Chet Baker because the horn lines intertwine effortlessly. Trumpeter Marcus Wyatt's The Promise is a long, slow and exotic song that draws you in. On a good stereo, this recording is so three-dimensional, you're in the studio…
#18 St. Mary's is the second song for Mrs Ida Mnisi – its frantic energy echoes the frantic visits made to her at the hospital which gives the track its name. The horn lines are insanely tight and the acoustic bass, drums and piano are there every step of the way. The album ends on a very "up" note. Mnisi's jaunty Syd's Dilemma just makes me smile. That muted trumpet and the almost vocal quality of the upright bass in the higher registers is the stuff of memorable jazz gigs.
Engineer Peter Pearlson will make you feel like you're there – and you'll be glad you are. If you look around this site, you'll see that we're falling for South African jazz in a big way – maybe it's time you lent an ear.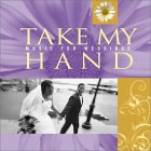 …Take My Hand - Music for Weddings - by various artists on the Light Records gospel label
It's summer – the wedding season's in full swing and this 2-CD set celebrates it in true R&B style.
Claudius Craig's Always sets the tone – slow, heavy bass and a head-nodding beat. The lyrics are easy to learn, which is a definite plus for a wedding song. They're reproduced in the liner notes anyway. The romance and drama step up a gear with Whispers of my Heart by gospel star Daryl Coley. I've not heard him before but he's a real vocal stylist. One classy production.
Lisa Shipman lends a sweet and unique vocal style to the pretty Only You which – dare I say this – has a subtle country feel. The acoustic guitar adds a great touch. There's real soul on Desmond Pringle's Covenant of Love. This song would not be out of place on a Luther Vandross album and it sounds like Desmond has listened to lots of Luther's records – but who hasn't? This is streets ahead of the plastic, mass-market dross I hear so much of. Did Pringle make a solo album? Someone send me a copy – please.
Kloud 9 weigh in with the sexy, sexy, sexy Everything About this Love. Sexy, bass, sexy keyboards, sexy vocal. That chord progression is not original – like I care! Rewind!!
Think you can sing as well as the artists on Disc 1? Load Disc 2 for the "performance tracks" and grab the mike then. Y'see those printed lyrics are there for a reason. The last two tracks are slightly overblown organ renditions of the entry and exit sections of the Wedding March – c'mon it's a wedding album after all.
It's a very original and appealing package and if your guests like R&B, lots of toes will be tapping on your big day.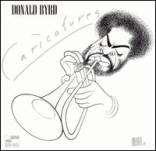 …Caricatures by Donald Byrd


Thank you Blue Note!

This classic example of that big BN sound kicks as hard today as it did in 1976 when it was first released.
Trumpeter Byrd had got seriously funky by the mid-70's and Dance Band is an infectious dancer that never lets up. Wild Life, with a standout female vocal, is a great piece of social commentary, as is the strutting title track. Back to flat-out groove with Science Funktion. This song features insane keyboard work by the up-and-coming Patrice Rushen and the toughest, most audacious one-note bassline I've ever heard. Wild!
Dancing in the Street is not an obvious choice among all the original material but Mildred Lane's vocal is strong and it's a party – it works! No other label had an identity like Blue Note in the '70's. The chanting Return of the Kings and the soaring and inspirational Onward 'Til Morning are perfect examples of the sound. I've always loved it – I still love it. Wade Marcus's arrangements just do not fade with time. Byrd does a bit of a Barry White rap on the closer Tell Me – his gravelly voice is appealing enough, but his trumpet is magical.
Say thanks to Blue Note – make me happy – buy this.