I Happened To Hear… September 2004
…In the Land of Smooth by Byron Woods
Already in the 2-minute intro I'm hooked. This sounds like the Stylistics at their best and I can't stop singing it. Fly Away features vocal tricks like those of Philip Bailey and a lush piano backing. The funky Girl, I Need You has the musical and vocal sass of Al Jarreau, especially in the lower registers. Saxman Steve Cole also features – to great effect – on this song.

I really enjoyed the urban chug of If It Takes All Night and So Good. These songs are balanced by deeply romantic tracks such as Can This BeReal.
Throughout this Expansion Records release, you'll hear classy production, confident instrumentation and superb backing vocals. Byron wrote or co-wrote seven of the thirteen songs here. If you love good soul vocals, especially where these have overtones of Phil Bailey, Phil Perry or the Stylistics, well, you're going to love this guy… This is an outstanding slice of modern soul music.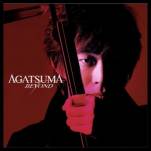 …Beyond by Agatsuma
If you've heard Hiroshima, you'll know how Japanese and western musical styles can blend in a startling way. That's what happens when this young master of the shamisen – a traditional 3-stringed instrument – lays melody over a chunky backbeat, as he does on Dawnlight, Heartbeat and Panther. He has the sensitivity to respect a traditional instrument as he shows on the sombre Paper In The Air. He also has the in-your-face soloing chops of Stanley Clarke and he totally burns on the outrageously funky Shami's Groove.
The contrast between the western-influenced music and tracks like Paper In The Air and Baetnorae/Tsugaru Yosare Bushi is as fascinating as it is stark. In The Sky is my choice as film music; it's both dramatic and uplifting, apart from being technically dazzling.
New Age, World Music, jazz – this 2004 album from Domo Records is whatever you want it to be.

…New North by Karl Seglem
The cover of this Norwegian tenor saxophonist's CD hints at the brooding nature of much of the music on the disc.
The meandering Port, with its almost Irish feel, its intertwining, plaintive sax and guitar lines is unlike any music I've heard before. Moon Fjord continues the theme while Med Jesus Vil Eg Fara is a Norwegian psalm – one of two traditional tunes, which again have a surprising Irish sound.
The male vocals on this CD were hard to get to grips with, partly because I don't speak Norwegian and partly because I'm still trying to think of this as a jazz album, which it reveals itself not to be. In fact, the song with the most conventional structure is the dreamy New Goodbye.
Seglem's tenor sound is superb and reminds me in many ways of the Yellowjackets' Marc Russo. I also enjoy the percussion on the album, which is often chaotic. Where I've struggled to appreciate this set musically, I've found myself listening to it as a collection of sounds. Who can tell you how you should hear music that is so far removed from the mainstream?
Check out www.ozellamusic.com if you're an adventurous music buyer.

…Lumpy Jazz by Jeff Berlin on M.A.J. Records
Ever heard the term "bass players' bass player"? Jeff Berlin has inspired – and tutored – many fine players and his soloing is legendary.
On Brooklyn Uncompromised, he explores most of the bass and its melodic and chordal possibilities. On My Happy Kids, the running bass, skittering snare and joyful piano will make you smile. Bass players – don't try this at home!!
The bluesy atmosphere of Almost Dawn holds you spellbound, waiting for something to break loose and the guitar-like soloing halfway through won't disappoint. It's Richard Drexler's piano that sticks in my mind though. Drexler's no slouch on upright bass either (piano and upright bass – how often do those talents combine in one person?) and he holds it down while Berlin flies all over the bass on Have You Met Mischpucha.
Toots Thielemans' utterly sublime harmonica adds the sweetness to Toots Suite – it's a lovely tune. I love Danny Gottlieb's flying snare and cymbals on Everyone Gets Old (If They Have The Time). I just wish there'd been more melody before the blazing, high-register bass workout kicked in.
If you want to hear how far – and how fast – a bass player can go melodically, you should hear "Lumpy Jazz". If you want to learn bass, hear some slapping or cool out on some low-end stuff, I'd start with something simpler. Bass maniacs can surf to www.jeffberlinmusic.com to order this CD and read more about the truly individual Mr Berlin.