I Happened To Hear… October 2004
… Benoit/Freeman Project 2 by David Benoit and Russ Freeman

These long-time collaborators meet up again on an album that shows how the true talents in contemporary jazz can make consistently classy and interesting music.
How could they fail with one of the most versatile guitarists anywhere and a pianist with a superb mastery of light and shade? If you've heard Freeman burn like Hendrix on the second Rippingtons live album, you'll be amazed how much like Earl Klugh he sounds on the acoustic guitar here, yet then sounds more like Larry Carlton when he switches back to electric.
Benoit sounds fantastic throughout: from the moving Moon In The Window to the upbeat, funky Struttin' he's never sounded better.
These guys gel so well – for example Stiletto Heels sounds like Fourplay locked in at their cool and funky best. The album has great songwriting and more improvisation from both leaders than you'd probably expect. It also contains a surprise performance from guest singer Vince Gill on Two Survivors – sounding very much like George Benson.
This is even better than the first collaboration for my money.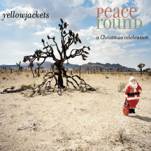 …Peace Round by the Yellowjackets

Boney James, Fourplay, Steve Laury – these and many other big names in contemporary jazz have produced some very credible Christmas albums.
I was surprised to see one from the Yellowjackets, but I'm glad that they took this step. If you read my review of their Time Squared, you'll know that I really feel the band has never sounded better. As the tasteful and stunningly classy arrangements of these traditional songs wash over me, I still feel the same.
Their rendition of Little Drummer Boy is boisterous and I love the way that the chords on the bass hint at Celtic roots for this song. The high-register sax on Silent Night is gorgeous and the whole arrangement is wistful. Russell Ferrante's piano notes hang in the air like big, fat snowflakes – it's truly beautiful.
There's a simple grandeur to Have Yourself a Merry Little Christmas that is heart-warming. The temptation to resort to clichés when describing it is almost overwhelming. The First Noël is the only vocal here and it features an emotional performance by Jean Baylor. She respects the melody but injects a feeling to the lyric that I've never heard before.
The other traditional songs featured on the CD are Deck the Halls, God Rest Ye Merry Gentlemen, Oh Little Town of Bethlehem, Winter Wonderland and In a Silent Night (a musing on the theme of Silent Night) and each one delights in its own way. The Heads Up website calls the title track "an old English canon built on a simple eight-measure round". I can't add much to that but the music is as impressive as the description.
If you thought you'd heard all the jazz "takes" on Christmas music, this should still be on your shopping list.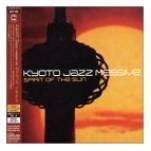 …Spirit of the Sun by the Kyoto Jazz Massive
This band has at its core DJ's Shuya and Yoshihiro Okino and its name was coined by acid jazz DJ/label owner/journalist Gilles Petersen in the magazine Straight No Chaser.
As such, there is no getting away from the band's acid jazz roots and as acid jazz derives many of its sounds from underground 70's funk bands, much of this music has a lovely, deep retro feel.
The Brightness of These Days has a very 70's jazz feel with a warm Rhodes sound and a sinewy bass sound. The bassline is very repetitive and adds to the intensity of the song. I got particularly hooked on Between the Lights. I adore the husky Bennie Maupin-type sax on the opening. It has nice keyboard sounds and percussion and a hint of the '70's Blue Note sound – to me one of the world's best every sounds and a vibe I never tire of.
My favourite vocal performance is on Deep in your Mind where there is an echo of Al Jarreau in the male vocal – I can't put my finger on it but I feel it. The cymbal sounds and the shimmery guitar sounds on this are very appealing, as is the percussion build-up.
A good acid jazz band should look at its roots (as KJM undoubtedly do) but should also be contemporary and relevant. Mind Expansions is up-to-the-minute stuff, trancey and very powerful dance music. My notes say "good club dancer" – yeah. The instrumental Eclipse is another uplifting, strong dance track. Its fierce latin drumbeat gets chopped up into something much more acid. I'm happy when the insistent bassline kicks in and then the laughing synthesizers make me smile…
If I turned you off by mentioning acid jazz, tune back in because this release from the small Compost Records label deserves to be heard for the way diverse influences are on display on this massively danceable CD.

…The Good Life by David Lanz
While I'm on a high, let me tell you about this recent find. This 2004 CD by pianist David Lanz marks a departure from the New Age style his fans have enjoyed for over 20 years.
I bought this album on the strength of a review I read and it's already one of my "grab it if there's a fire" treasures.
The first two songs Big Sur and Kal-E-Fornia have the rhythmic bounce and sheer melodic content to have you tapping your feet and humming or whistling. You'll keep grooving to the funky title track and Mood Swing with its gorgeous staccato drumming and crystal-clear piano.
Enjoy the mellow sax of Eric Marienthal on the more laid-back It's the Way that I Feel – it's another strong melodic piece.
My favourite song - on a ten-song CD where there are no fillers - is Not a Moment Too Soon. It has everything: an insistent bassline, tiny riffs on keyboard and guitar which get right inside your head, Michael Paulo's gorgeous sax and Lenny Castro's delicious percussion. Add that superlative piano and a strong composition and you've got music that I can only describe as… perfect!
I've mentioned some big names already. If I told you that Lanz has enlisted the talents of Jeff Lorber, Paul Jackson Jr and horn ace Jerry Hey and that he co-produced this set with Steve Dubin and Gregg Karukas (hello!) you'd be interested, right? 2004 so far has been a reassuring year for me as a lover of contemporary jazz – this album is one of the reasons why.