… Jazz Hymns (Faith of Our Fathers Vol 1 & 2) by Phillip K Jones II


This straight-ahead piano jazz CD comes from Niayana Recordings, the label that gave you (and me) SoundDoctrine. The opener 'When Morning Gilds the Skies' has clever excerpts from 'America the Beautiful'. Similarly 'Doxology' has refrains recognisable to me as 'All People That on Earth do Dwell'.

The lovely waltz time of 'O How I Love Jesus' marks a change of pace from the first two frenetic numbers. The tempo is back up for the sax-led 'The Church is One Foundation', one of several gospel staples which receives a storming jazz treatment on this album. I particularly enjoyed 'Our Great Savior' with its Latin flavour and nice, warm jazz guitar sound.

Let's not forget that Phillip, as well as being a talented and fiery pianist, brings bass, organ and drum playing skills to the project. On 'O God, Our Help in Ages Past' the organ is to the fore and the bass moves around energetically. I like the Harvey Mason-esque vibes sound on 'I Heard the Voice of Jesus Say' and I've got to tell you – if you are a fan of jazz trios which can bring something new to gospel standards, you're going to find some inventive, sometimes challenging, music here. Fans of more traditional gospel – or even people who think they know what gospel should sound like – will revel in the party-like atmosphere of the closer 'Down by the Riverside'.

Find out more on Niayana's website.


… Music in the Key of My Life by Stephen M Lee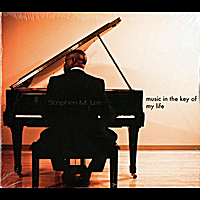 Another jazz pianist with a great sound and energy – and with a spiritual message, but the sound is very different. 'As the Deer' is elegant and funky and Doc Samba's bassline (what a great name!!) is right in the pocket! I'm also drawn to the elegance of 'Coming Home', which has an almost Jacques Loussier cool to it.

'A Message from God' is a slow and reflective piece and the spiritual message is strong as a result. And I guess that's the thing about spiritual music that's played with heart: whether it's uproarious or whether you can hear a pin drop in the space between the beats, the uplifting effect is likely to be the same. There is a hint of fusion and an on/off urgency in 'God has Smiled on Me'. Doc's bass solo comes as a real surprise – one I like!

'God's Vision' is led by Melvin Smith's confident tenor and it's a powerful no-frills, rhythmically simple tune that packs a punch. 'Breathe on Me' says it all. It's the album's only vocal and I certainly would like to hear more from singer and co-writer Martine Allard. The track, like the whole album, has soul, depth and good taste.

Read about Stephen here.


… Only Trust your Heart by the Scott Martin Band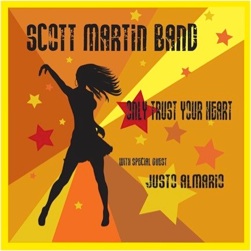 I love Latin jazz with a passion so I was very glad that saxman/flautist/singer/percussionist/composer Scott Martin got in touch recently. The tone is set by Horace Silver's 'Gregory is Here' and the way those sax lines double up over that lovely, flowing rhythm is about as sexy as it gets. In the same vein, the title track is like being in the arms of your beloved. This fabulous production lets the alto sax sing and leaves just enough 'space' for you to soak up every note.

Radio should be picking up on 'Cleve-Land'. The flute takes me back to the late '70's when I was getting into jazz fusion and, it's, well it's perfect. Dave Valentin fans, lap this up! I have three favourite versions of 'Black Orpheus/Manha de Carnaval': the one by Earl Klugh on 'Blue Note Live at the Roxy' (1976), the one played by two outstanding musicians by the pool of the Ifa Beach hotel in Gran Canaria and this one! Outstanding.

The rhythmic flow of the only original composition, A Night in Rio, is very engaging and makes me wish that not only I was in a place to dance to this style of music but that I was very good at it. I believe I'd smile until my jaw ached. This is the bomb! I also like the flute-led version of 'Clouds' even more than the David 'Fathead' Newman version I had on a 12" single half a lifetime ago.

Oh Lord, this is the coolest! 'Tangerine' is unashamedly old-fashioned and I just love it. Cha-cha fans, form a line. It's good to hear a vocal tune on here – it's written by Michael Franks and the lead vocal here is very reminiscent of Franks' understated delivery and gauzy sound. Background vocals are exceptional also. It's a great addition to what was already shaping up as one of the sexiest Latin albums I've had the pleasure to hear.

During coming snowy evenings – or on a balmy summer afternoon – this CD is unlikely to be far away from my hi-fi. A glorious, simply glorious hour of music.

A warm welcome awaits here.


… In the Zone by Richard Elliot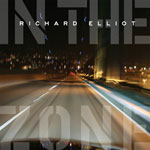 If you've never heard saxman Richard Elliot before, may I politely ask – where have you been? 25 years after the release of his debut album, 'In the Zone' celebrates the influence that great musicians such as Bob James, Grover Washington Jr and David Sanborn had on him in the halcyon days spanning the 70's and 80's (ah, I remember them well).

'Island Style' a very cool, groovy introduction to this 10-song set and the vibe builds on 'Boom Town' – with a tough snaredrum, great keyboards and that phat sax sound up front. Ex-Pleasure bassist Nate Phillips keeps it smooth on the fluid and urban 'Metropolis'. You all know that my favourite music takes me places and this has me on Las Vegas Boulevard, late as you like, in the Chevy Cavalier convertible – ah, was that Paris we just passed?

It's brave to take on a classic like 'Inner City Blues', especially as an instrumental but this works. I waited for some grit in the horn sound – it's a gritty song after all – and near the end I got it. Nice tribute. Live, must be phenomenal – yep, I'm lucky I've seen Elliot play live on both sides of the Atlantic.

Funk? You can have some on 'Bring It!' and you'd better say 'thank you' to co-producer Jeff Lorber who plays keys and guitar on here. You lucky people! It's funky but it could – and should – smoke even more than it does. Another live treat coming up… The title track is another horn-laden gem with a slippery funk bassline courtesy of Nate Phillips (come on, if the guy who gave you 'Glide' can't get you moving, who's going to?). 'Panamera' completes a trio of funksters that you should really put on repeat and just dance round your entire house. Soon as I switch my laptop off, I think that's what I'm going to do.

I hugely enjoy this new CD and I love that a player who's been in the game for over 25 years is still at the top of it, still in the pocket, working with the crčme de la crčme and acknowledging artists who blazed a trail. And the best part is that I think I'll like it a little more each time I hear it…

Funk on down to Richard's website.