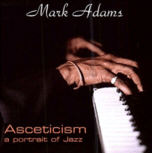 …Ascetism – A Portrait of Jazz by pianist Mark Adams.
This debut CD by Mark Adams on New York's MCC Recordings contains a few surprises.
Its groove-laden opener Der Grüner Mann showcases Adams' lush piano sound well. His soloing is remarkable. This track is a real grower. Adams Apple also lets that "hear-every-note" technique shine through and guitarist Dominique Kanza sounds great on here.
There are sombre moments on Seeing in the Dark, which has a mournful alto sax and classy string arrangement. Colors is a pretty Latin-tinged tune where Ken Adams' sexy flute is the star.
The direction changes again with Freedom from Freedom. I love this, with Dave Jones' funky bass and the way the song branches off in different directions. It takes time to get into – but stick with it. I confess that I still can't get into the reggae-flavoured Club Carib. My favourite song – and I wish it were longer – is the jazz trio treatment of Nat Adderley's classic Work Song. It takes a while to build but it's simple, respectful and gorgeous.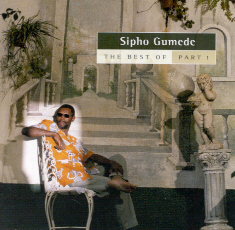 …The Best of Sipho Gumede – Part 1
If you've read my review of Paul Hanmer's "Playola" CD on this site, you'll know how much I rate the output of South Africa's Sheer Sound Records. This 14-song set by bassist Sipho Gumede was released in 2001 and if you ever thought you'd like to hear some African music, this would make a great starting-point.
I've always thought of African music as music to dance to. And that's what you can do when you hear Please Don't Dance with its nice light touch and neat brass section. You'll also be on your feet for Don't Mess With Me and the bright and breezy Township Jive. Country Side has a super-tight picked bass sound and superb horns. Louis Mhlanga's guitar work on here is astounding. It's my favourite song.
Faces and Places has a gentler groove with subtle piano and guitar work. Stokvel Gumba is irresistible – great guitar and sassy brass again. Nozipo the Dancer is gentle and swaying. The production values are very high – as they are throughout the CD in fact. The stereo panning of the percussion and that rock-solid bass made me smile.
Not only can Gumede play it solid, he can be lyrical. The lovely woody sound of his bass as it carries the melody on I Love You Too is something you'll remember…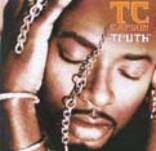 …Truth by TC Carson on the specialist UK label Expansion Records.
The debut CD by a real stylist is danceable, smooth and just that bit quirky – it stands out.
All U Need has a heavily tribal intro – which I love and was ready for because I heard and wrote about these CD's in sequence. This track could – and should – become a soul classic. The strings, backing vocals and Byron Miller's fluid bass make this inspirational cong complete.
The riotous Lordy Please is funky – but not in the usual sense – you have to hear it. It's nuts!
Carson can be mellow though. Can't Wait is Latin-tinged and it's daring in the way that Al Jarreau's music is daring – it's really got under my skin. The breathy vocal on the swaying and sexy This Time is distinctive. The instrumentation is beautiful – as the players include my beloved Patrice Rushen, drummer Ndugu Chancler and percussionist Munyungo Jackson, is that surprising?
That tribal percussion appears again on Life is Just a Dance, and Al Jarreau-style scatting opens up this light-hearted, quirky and very catchy song.
The classy feel continues on the title track and Warm is the Rain shows off Carson's vocal range.
I've had to listen to this CD a lot before I fully appreciated it and was happy to voice an opinion. I'm pleased that I have because my favourite tracks have emerged and they are gems.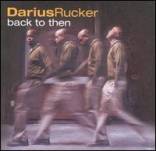 …Hidden Beach Recordings' Darius Rucker.

His debut solo CD "Back to Then" like much of HBR's output, is hard to categorize.
The album's first single Wild One is a lazy soul tune with the hookin'-est hook and great brass. The vocal phrasing on Exodus and the backing vocals are superb and Sometimes I Wonder is smouldering and moody – it showcases Rucker's gravelly voice perfectly.
On the mellow side – Ten Years is very moody too with a very stripped-down production which leaves Rucker and his strong backing singers to shine.
I like it though when the tempo picks up – Back to Then is what I call a "slow-fast" song with its loping rhythm and double-time percussion. Butterfly has a more rocky feel with guitar more to the fore. It's also timeless – if you didn't know this was a 2002 release, you wouldn't guess.
Snoop Dogg joins Rucker for Sleeping in my Bed, which has a nice disjointed funk groove and a whole lot of attitude!
Like the TC Carson CD, the sound is original and it also has a harder edge than much soul and R & B material. You certainly won't be falling asleep while this is playing!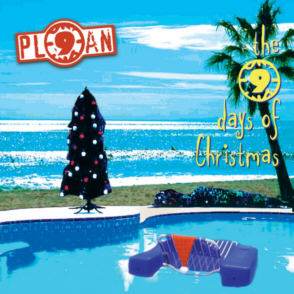 …the finished version of Plan9's The Nine Days of Christmas.
The band's guitarist Drew Bentley promised me that Santa would come early after I reviewed the promo on this site recently.
I'm happy to tell you that the remaining three of the anticipated nine songs – and the two bonus ones – were worth waiting for. They are delivered in the same creative and humorous style as the tracks I heard earlier.
I've heard that Bondi FM in Australia is playing this CD. Doesn't that conjure up a great picture? Sitting on a beach, with the sun on your toes and your favourite glass of something nice, listening to Away in a Manger.
Happy Holidays to smooth jazz fans and their families everywhere!