Heartfelt by Fourplay – reviewed by Chris Mann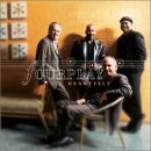 There can be few people reading who have not heard Fourplay or at least one of the four giants of contemporary jazz who make up the band.
Guitarist Larry Carlton, bassist/vocalist Nathan East, keyboard man Bob James and drummer Harvey Mason are Fourplay and this is their eighth album (if you include their "Best Of" collection).
This is their third album since Larry Carlton replaced Lee Ritenour and their first album for RCA/Bluebird. They are noted for their consistent high standard of composition and musicianship – in short they are one of very few contemporary jazz supergroups.
Galaxia has an exotic introduction and retains a nicely offbeat feel throughout, thanks largely to Harvey Mason's inventive drumming. The usual Fourplay sounds are there: that trademark snare drum, the bass/vocal scat and Bob James' assured piano but the guitar solo is rockier than we're used to on a Fourplay album.
Fans of a solid 4/4 groove should like That's The Time. This is very radio-friendly with Larry Carlton giving the melody an ultra-clean sound. On keyboards, this just could not be anyone other than Bob James – his sound is unmistakable.
The staccato Break It Out makes me smile because of its clever groove, which manages to stay mellow. Carlton pulls another uncharacteristic solo out of the bag – this time a wah-wah type sound is used, and it's nice once you get over the initial surprise.
Nathan East and Harvey Mason lock in tight to produce a funky groove (notice how much I'm using that word…) on Rollin'. On a studio album I guess there has to be some restraint – I'd love to hear the fellas get down with a live version of this. Don't play it too safe guys!
Harvey Mason Jr. produced the lovely Let's Make Love – a classy R&B vocal with bluesy, gospel and even country flavours. The vocal performance by Nathan East is so strong I wonder why they have ever called in guest vocalists. He co-wrote the song with Babyface and if this doesn't get serious airplay I'll join a thrash metal band!
The title track is a very sombre and emotional piece. Everything is stripped down to its essentials and the acoustic guitar works very well. Fourplay do things like this superbly.
Would you expect a song called Tally Ho! to be energetic and fun? Me too – and it is. Harvey Mason's crisp rimshots and cymbal work make a masterful metronome for the band to do their stuff. It's got a "Birdland"-type jauntiness. Carlton burns on this one!
I love the rhythm on Café L'Amour. Big, bad bass, a sparse and uncompromising snare and a nice break with spacey synths. This track darts off down alleys of urban funk, drum'n'bass and tops it off with tasty guitar. Boys – more jams like this please! Rewind!
The guitar gets dirty for Ju-Ju, which has a head-nodding bluesy feel. I adore "Blues Force" from the CD "Yes, Please!" because it's melodic and structured – this is looser and more of a jam. In front of the right audience it must be dynamite. Again, it's not a typical sound from the foursome…
The simplicity of Goin' Back Home is very appealing. Larry Carlton takes lead on acoustic guitar and that bluesy feel is never far away. Would work better as a 4-minute song than a 6-minute song maybe.
Light on its toes – that's the pretty Karma. Classic Fourplay: fast, crisp rhythm with guitar and keyboard sounding like one player. If you've heard any other Fourplay CD's you'll know what I mean. That acoustic guitar solo is possibly the album's high spot for me. Master of the bass, Nathan East, scats high and low and flies over those fat strings – er, that's the high spot. I just love the song, OK?
A gorgeous ballad to end – Making Up is warm and mellow. A gorgeous ballad. Period.
Fourplay here are treating the audience to a formula that's tried and tested but the improvisational element is stronger than previously. Perhaps it's that which has taken the music in some new and interesting directions.
If there's anything missing, it's the same thing that was largely absent on "Yes, Please!" – a melody that sticks in your mind like "101 Eastbound" or the superb "Chant". That's not to say I'd want Fourplay to morph into a pop band but I think I'll need to play this a lot before I walk down the street singing my version of it…

RCA/Bluebird Jazz 63916 Producers - Ken Freeman, Harvey Mason Jr.