Inoy by Tom McElroy
– Reviewed by Chris Mann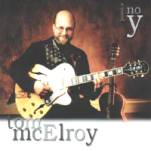 Composer, guitarist and producer Tom McElroy began his playing career in 1975, when he got his first guitar and began classical lessons. He moved onto jazz the following year. Two years later, he concentrated on music as a vocation and was tutored by both George Benson and Pat Martino.
In 1980 on his theory teacher's advice he took his guitar on the road, touring extensively with a rock band to get experience. His two-and-a-half year stay in Dallas, much of which was spent in a residency at the Ambassador Park Hotel, earned him the respect of the local press.
After a period back in Seattle playing sessions, Tom, urged on by Pleasure's Michael Hepburn began equipping a studio and composing and producing music. He had already established his credentials by playing with soul singers Freda Payne, LaVerne Baker and Etta James and gospel pianist Ben Tankard, to name just a few…
A three-month sabbatical from his job was enough to help him complete the work he had already begun on this, his first solo project.
When Gentle U opens, that heavy synthesised kick drum really catches your ear but after a couple of minutes that mechanical snare drum starts to wear. Having said that, the guitar is sweet and jazzy and the song is short enough for that rhythm not to outstay its welcome.
Always with You is slightly darker. The minor keyboard chords sit well with McElroy's warm semi-acoustic sound. Again the rhythm is a little intrusive.
There is a more wistful tone on When We. It's a solo acoustic piece which really showcases his songwriting and playing talents. This is my favourite – beautifully recorded too.
On the title track, that synth drum plods just too much and it's hard to lay a guitar track down over something like that. And the female vocal does not help the song. It's a direction-less five minutes.
Tom gets urban on It's 3:00 In The Morning. The rhythm track with its bleep-bleep keyboard does work but the talk/rap vocal doesn't. His guitar sound is lovely though – I'm just waiting for him to let rip.
I Don't Know is breezy and has a great West-Coast goodtime feel. It's a strong melody and the guitar takes it all the way.
Despite my feelings about mechanical snare drums and percussion, the melody is so strong and the keyboards so tasteful on En Route, I just go along for the ride. The song deserves a drummer, a percussionist, a stage in the California sunshine and a very blissed-out audience.
The more urban feel returns for Hey You but with that drum track, even though it teases some nice rhythm guitar out, the song never really gets going.
Sound effects kick off Pressure – a bit like Donald Byrd's "Science Funktion". The rhythm track is relentless but at least rhythm guitar is snappy. The whispery female vocal is lost on here and when Gordon Uchima's sax kicks in, the energy boost is welcome.
For Luv is a pretty ballad. A very clean guitar (sounds like a solid-bodied instrument this time) carries the melody. The drum box was tamed on this one – and that really pays off.
The drum intro to Soft Rain makes you think the song will be more energetic than it is. It sounds like the guitar is really holding back in order to fit a click track with too few BPM.
There is a "hidden" track to close the CD. It's part of track 11 but listed on the sleeve. As with "When We", McElroy's musicianship shines out on this solo acoustic number. Pretty song.
You'll have guessed by now that my overall impression is one of a talented writer, player and producer whose potential is not fully realised on this recording.
I would love to hear him with a band, at a small festival because he has an intimate style that shouldn't be strangled by too much technology.
MusicMaker Enterprises (no catalogue number) – producer Tom McElroy