The Rippingtons – Live Across America
– Reviewed by Chris Mann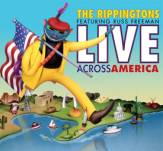 Most people reading will know the story behind this album. Contractual wrangles have delayed its release by substantially more than a year.
After a change in the line-up of musicians and a move to bandleader Russ Freeman's own Peak Records, we have finally got this, the Rippingtons' fourteenth CD, and their second live CD.
You're probably asking the same question that I asked when its eventual release date was confirmed - is it worth the wait? Well…
The album opens in blistering style with Freeman's rock guitar and Kim Stone's chunky bass on Road Warriors. Dave Hooper on drums is playing his heart out on this track.
Summer Lovers is just what you'd expect – very sunny and summery and Freeman's guitar sound is firmly in the jazz vein here. Paul Taylor's tight-as-a-drum sax solo is kicking!!
I've always loved Welcome to the St James Club and this version is so sweet I can't help but smile. If Russ Freeman played acoustic guitar all the time I'd be happy. His sound and phrasing are utterly flawless.
For me Hideaway was the highlight of the "Brave New World" album and I was delighted to have this sexy tune on this CD. Kim Stone's fretless sound flows beautifully and the sitar sound is just as exotic live as on the original record. Dave Kochanski's piano solo gets a deserved warm reaction from the crowd.
That ominous bass intro on Black Diamond moves the drama back up a gear. I enjoyed picking out the different types of percussion used on this track. The song has all of the impact of the studio version, with the passion that comes from playing to an appreciative crowd.
South Beach Mambo always sounded like a party to me, and Freeman always sounded like Carlos Santana – live that's still true. Add Eric Marienthal's heartfelt sax and a tasty percussion breakdown and this is a winner!
Radio loves She Likes to Watch and its great to hear a track from the Ripps' very first album shoulder to shoulder with the new material. The sax melody reminds you just how strong Freeman's song writing is and has been since the start, and Paul Taylor, you rule!
Jewel Thieves starts off so funky, it sounded like the JB's just walked in! Great version with a sweet sax solo. Kim Stone lets rip on this song and the crowd lap it up!
The tempo drops for Rain, which is stunningly beautiful. The crowd must have been stunned too judging from the way they save their appreciation for the whole seven minutes.
The guitar blazes on the energetic Avenida del Mar. The whole band is incredibly tight on this Latin-Rock workout. The false ending draws a roar from the crowd. This is triumphant!
However, the most rapturous applause is saved for Freeman's wild Star Spangled Banner – the culmination of a five-minute Hendrix tribute, which includes Purple Haze and Fire. It's a bizarre thing to hear on a Rippingtons album, but Russ Freeman is a superb guitarist and it's not surprising that Hendrix would have been a major influence.
A new song, the upbeat and funky Are We There Yet closes the set. I don't think it's played live although its got live energy and the engineers have given it a nice airy acoustic. Maybe we'll hear it again on the next live album…
Rippingtons fans will want this album. People who aren't Rippingtons fans should hear it so they will understand why people - like me - who have tickets for Rippingtons shows this year are starting to get excited.
Peak Records 8508 – Executive producers Russ Freeman and Andi Howard