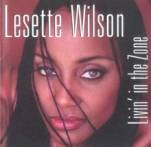 Fans of rare groove and 80's funk will recognise the name Lesette Wilson and associate it with "Caveman Boogie", taken from her debut album "Now That I've got your Attention".
New Yorker Lesette began her career as a fusion and jazz-rock performer. Her keyboards can be heard on Tom Browne's club anthem "Funkin' For Jamaica".
In 1986 she teamed up with vocalist Meli'sa Morgan in 1986 as a writer and producer. She worked on both albums, 'Do Me Baby' and 'Good Love'.
Her second album "Unmasked" featured Toni Smith (coincidentally the lead vocalist on "Funkin' For Jamaica").

If you didn't already figure it out, Livin' in the Zone (Prelude) sets the scene for the album.
It's On has very dramatic string intro and it opens out into a lovely mellow funky tune. There's something distinctive about Lesette Wilson's piano style – it's simple and unadorned. Maybe it's a little too simple – I certainly enjoy it when the chords get denser. Great song to dance to.
The groove on Stevie Wonder's Too High is strong and again that piano is right out in the mix. The string backing to this song really adds to the drama. A great tribute.
The title track is another midtempo funky tune. The lead keyboard sound is quirky, almost like sampled car horns – I like it but I'm not quite sure why. The sax solo on here is timed just right, good blowing – sweet – nice! Lesette stretches out on piano here.
On the album's first vocal, One more Time, Shelene Thomas shines. This is what 70's funksters used to call slippery. A real wind-and-grind rhythm with magnificent lead and background vocals. Slow and sexy.
Theme from "Home Invaders" is similarly slow and it's haunting too. The piano is sublime on this track, not sure if it's a different instrument or just a different style but it carries the simple melody nicely.
Maze's Before I let Go gets a spirited treatment, opening with an electric guitar solo that somehow steals the limelight from the piano-led melody. I was kind of waiting for the guitar man to come back… The piano gets intense toward the end of the song and it gives an insight into the talent which has been away from the soul/jazz recording world for too long.
Shelene Thomas is back for the urban and groove-laden Live your Dreams. This song is co-written by Lesette Wilson and I enjoy the lyric a lot. Inspirational but not heavy-handed. Again, the vocal work on the song is flawless.
Turn up the volume for One! The keyboard sounds on this track are eerie and gorgeous. The male vocal from J. Phoenix is almost whispered and like that slow, deliberate rhythm it just creeps up on ya! Before my car stereo (containing my first copy of this CD…) was stolen, this was on permanent "repeat". Utter bliss and my favourite track.
The sexy grooves are clearly a comfortable setting for Lesette Wilson, her piano rolls along gently on a lovely late-night, slow-dancing rhythm for Wine Down – the title tells the whole story.
It's almost impossible to avoid drawing comparisons between Lesette and Patrice Rushen; two talented soul/jazz composers and instrumentalists. Piece of Patrice really acknowledges that fact and the layers of rhythm topped with that breezy piano brought back memories for me. Even Carlos Henderson on bass is sounding like "Ready" Freddie Washington! The electric piano sound on here is the most delicious time-warp. Oh, more of this please Miss Wilson!
Reflections slows it all down and has a sombre mood. It's incredible that acoustic guitar, string and lovely "wind piano" sounds all come from the keyboards of one person. The breakdown is lovely – this track is a real grower.
It's been over seven years since the release of "Unmasked". To my ears, Lesette Wilson has moved on a long way since then and I'm glad she's got our attention all over again…
N-Coded Music/Warlock Records NC-4222-2 Producer Lesette Wilson
Reviewed by Chris Mann