On Kloud9 by Kloud9
– Reviewed by Chris Mann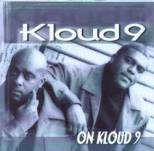 The tradition of gospel voices moving into a more commercial arena is a well-established one. Twin brothers Kendall and Kelvis Duffie hail from Chicago but are based in Nashville, Tennessee.
They have been singing together for 15 years and have toured the USA, South America and Europe as part of a 4-person modern gospel outfit. After a period of behind-the-scenes work doing radio promotions, artist development and production, their recording break came in 1999 when they were involved with a project called Soul Stepp'n, released by the independent UK specialist label, Expansion Records.
This, their first album under their own name, is also released by Expansion Records and is the fruit of time taken out to work on songwriting.
The opener (and first single) Can't Stop Thinking About You is a mid-paced bumpy groove with a nice rhythm guitar sound and some very sparse keyboard work. The male vocal is cute rather than dramatic. It's real boy band stuff.
If You Ever is more rhythmically sophisticated – almost jazzy – and it's more in the R&B vein. The background vocals are very strong and the neat guitar and percussion touches lift it above other artists' songs in the same style.
The groove toughens up for Never Knew which starts to sound like real soul. I hear a voice in there that's halfway between Michael Jackson and George from the Brothers Johnson. This is very radio-friendly.
This vocal sound is even more evident on That's How Love Should Be. It's a pretty R&B tune which stays funky enough to keep your foot tapping and the hook is a good one. This grabs me more the more I listen.
I smiled when I heard the slap bass, trumpet and sax on the intro to Let's Not Lose. Karen Bernod delivers a very sweet vocal performance on this song and the guys are starting to go for it vocally a little more too. A funky tune – and it's my favourite. Can't stop singing this.
Oh, classy intro to Priority. String sounds and gorgeous piano. This ballad features a solo male vocal on the verses and the song really benefits from that. Sexy.
Some classy soulful sax opens Soulmate. This is a soul ballad which moves so nicely and the single lead on the verses works very well. The song runs out of steam after the sax solo but picks up for the close.
On Kloud9 – interlude leads into Promise. This smooth, mid-paced soul number features Incognito and that trademark super-tight brass sound. This should be huge on radio and Bluey's touch won't hurt its chances!
The atmosphere created by the lazy groove of With Me is partly lost for me through a vocal effect mimicking the sound of the ocean – there's no substitute for the real thing. C'mon guys, remix this with more jazz guitar and crashing waves – the "Santa Cruz" remix!
Dump the scratchy vinyl sound at the start of Make You Mine and you've got another late-night slow jam. Kirk Whalum's sax features on this song, which you're not likely to remember the day after you heard it – but you'll have enjoyed the dance.
You might think you're listening to Zapp's "Computer Love" when you hear the intro to Mercy Of Your Love with its zappy electronic noises. I never got into this song and for me it doesn't add anything to the CD.
A Moment. Get a girl to whisper in French over a moody guitar and soft kick-drum and you can't lose – or can you?
Thought I heard Norman Brown on Lullaby For K.C. That guitar is the bomb! The only pure instrumental here and it's a mellow and lovely one. More!
The string sounds and piano are the stars here On Kloud9 – this is more of an interlude than a song.
The every-so-funky keyboard bass drives the fast Keep Me Coming Around. That doubled horn line on the hook grabs you and this is more of a chant than a song. This is a strange one – I like this so much but I can't figure out why.
Expansion has great hopes for Kloud9 – they have been described as one of the most important new soul acts in a decade. For me this CD stops short of being a landmark. I'm hoping to hear the Duffie brothers deliver something from the heart – strangely, given their gospel background, it seems like they're holding back on us.
Expansion Records XECD 34 no producer credits