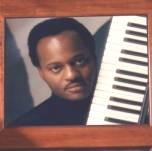 Multi-instrumentalist Norman Evans hails from Connecticut and grew up there, surrounded by music and inspired by visiting New York musicians. His talent was developed at the Educational Center for the Arts and by performing in a number of bands.
His first CD "Heirloom" was the product of this period of learning and growth. He has gone on to open for Spyro Gyra, George Howard, and Pieces of A Dream, among others.
It's a brave venture for a solo artist to write, play and produce everything on a fifteen-song album and I've set out here to pick my favourite moments.
The opener Easy Rider bounces along nicely on a synth drum groove and I like the chord sequences, even if the melody doesn't really go anywhere. The song is crying out for a background vocal.
On the fourth track, In Your Name, we finally hear Evans on soprano sax – that's more like it! He sounds sweet too! There's a strong melody on this track and some good blowing sections.
The haunting Riverwinds has ideas worth developing and if sax had been used as the lead voice, we might have heard more of its potential. There is too much synthesizer for me, but rhythmically it's the strongest song here, especially in its second half. My favourite.
On the strange Sorcerer, Evan's great acoustic piano sound makes an all-too-brief appearance.
The sax is back for Renaissance and it's a breath of fresh air. The guy has a really, I mean really good sound and when he doubles the keyboard line, it makes me smile! There's good blowing on here over that strutting rhythm – I want to hear more sax. I did lots of head-nodding to this one!
Mambo del Soul has a pretty melody which I'd love to hear on acoustic guitar (somebody call Earl Klugh…) and in my head I can hear it. That happy beat is headed in the right direction but needs tighter production.
A review of "Heirloom" that I read suggested that Norman Evans needed to make his sax sound stand out from the pack. Despite a market flooded with good saxmen (and women) I think he has the talent to do that; his tone is lovely and he can blow. I also believe that using his often very tasteful keyboards as a backdrop for his own sax (or anyone else's) will be better than using it so much as a lead voice. That piano sound needs to be heard much more.
If Norman Evans can team up with the right people and find a label that will invest in his next project, we will have heard the beginnings of something good…
Who Dis? Music 7210a6501 – Producer Norman Evans
Reviewed by Chris Mann