Playola by Paul Hanmer
– Reviewed by Chris Mann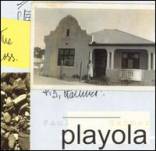 Keyboard-player, composer and producer Paul Hanmer was born in Cape Town. His musical interest started at an early age. In the early 70's he began classical piano and theory lessons. After three years at the University of Cape Town, studying for a B.Mus. degree, Paul started working in a variety of different fields.
He took leave of absence from UCT to work with guitarist Paul Peterson, who introduced Paul to many musicians. He performed with Top-40 bands, did jazz standards and played in several original bands.
In 1987 Paul Hanmer moved to Johannesburg and expanded his musical career by working with various cabaret acts and played in musicals and theatre productions. It was here that he formed "Unofficial Language" with fellow Capetonian's Ian Herman (drums) and Pete Sklair (bass).

Ten years later, on Sheer Sound records, he released his first album "Trains to Taung" to huge critical acclaim. "Playola" is the third of the four albums he has released as a solo artist. Paul also collaborated on Heads Up Records' "Smooth Africa" project in 2000, alongside such names as Jonathan Butler, Hugh Masekela, Andy Narell and Joe McBride and a host of stars from the world of African music.

Adrian's Chord Intro/Echo opens the album on a reflective note. The solo piano piece gives hints already that this will not be the standard smooth jazz fare.
Adrian's Chord is an ensemble piece, which grows like dawn breaking. The cymbal work is subtle and enhances the piano melody, as do the strings which provide lovely countermelodies. Drummer Kevin Gibson marks the change of tempo confidently.
The African feel that I'd expect from a musician hailing from Cape Town is evident on Zondwa Stomp. It's quite a lazy sound and the repetitive marimba line sounds like it's running counter to the piano but listen and it fits together. Peter Sklair's fretless bass and the chattering percussion make the song very distinctive.
The haunting Margaret Matheson is written in waltz time. Gibson's dancing cymbals and Denis Lalouette's warm and lilting 6-string bass are the perfect accompaniment for the piano improvisations around a beautiful central theme. This song has drawn tears from me several times. These few lines don't do it justice.
The mood is more upbeat – almost defiant – for Kwaito Right. The bass is down in the low registers and so is the piano much of the time. McCoy Mrubata's straightforward tenor starts to cook and this is African funk we've got here! A bluesy solo from guitarist Mabarane Mhlanga is the finishing touch – I was already hooked!
The 9-minute title track takes time to build to its central theme. The piano plays a swaying, repetitive figure which is accented by alto sax. The figure becomes hypnotic and despite getting funkier in parts, its overall effect is calming. Lalouette's lyrical bass solos are back in the mix but worth making the effort to follow. Oh, I love this!
Electric piano and acoustic bass are heard for the first time on the lovely Oulap'salms. The languid brass on this tune reminds me of old Mongo Santamaria records. Even if you don't read the fascinating liner notes, this music takes you far away…
Barcarolle is similarly atmospheric. Marimba seems to carry this loping rhythm. The cello is unexpected – it plays a supporting role to more crystal-clear piano work and a highly assertive alto sax solo.
"Elegant" is the most appropriate way to describe A Brand New Waltz. Lovers of jazz trios will be impressed by the size of the sound. It's a complex piece where chord changes bring mood changes with them. There's some zany brushwork and percussion – while I'm smiling at that I can still appreciate how impressive the whole is.
Amie sounds almost Scottish in the intro but it opens out into something much lighter, and it gets its sense of urgency from a strange source. Drummer Ian Herman pats his thighs throughout – in stereo.
A brassy intro to 12/12/88 really makes a statement. That strutting rhythm carries it through, the piano is big and bold and the interplay of trumpet, tenor sax and two trombones is both witty and complex. Do I love the bass solo? Yes. Do I love Gibson's rimshots? Yes. Even the outro means business.
Solo piano is just right for The Loss. The liner notes make it clear that the sadness expressed is not as profound as the title suggests. The rise and fall of the melody hints at waves on the ocean and the song is calming and reflective.
I started out by saying that this CD did not promise to be typical smooth jazz. And I'll stand by that: it's much more than a collection of radio-friendly, 4-minute treats. It's a welcome into a culture which is different yet has elements many of us recognise and enjoy.
As such, it takes a few hearings to appreciate both its subtleties and its grandeur. I'm very glad that I've done that before sharing my thoughts with you.
Sheer Sound SSCD056 – producers Paul Hanmer and Peter Pearlson