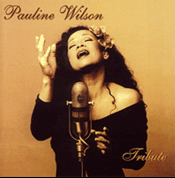 Hawaiian songstress Pauline Wilson was previously the lead singer and principal writer for the cult fusion outfit Seawind, which gained the respect of jazz and R&B lovers in the 1970's and 80's.
She has toured and recorded with artists as diverse as Bruce Hornsby, Celine Dion and The Crusaders.
"Tribute" is her second solo album and, as the title suggests, this is a set of classic songs made popular by other singers.
She's assembled an impressive band. Check this – Harvey Mason, Alphonso Johnson, Lenny Castro, Larry Williams, Airto Moreira. That's not even mentioning the top-flight horn players, several of whom are ex-Seawind members.
Most of the songs will no doubt be familiar to most people and so a track-by-track review would be largely pointless but I'd like to mention some highlights…
The haunting Rio de Janeiro Blue sounds about as strong as when Randy Crawford recorded it. This song sets the tone – only artists this good can create a sound so seductive.
Through the bluesy tracks such as Good Morning Heartache and Someone to Watch over Me, to the lively samba swing of Never Let Me Go, Ms. Wilson displays a real delicacy that's grown on me the more I've listened to this CD. Never Let Me Go has strings to die for and the vocal, ah, is beautiful.
Instrumentally, I love the lyrical acoustic bass solo by Ken Wild on When I Fall in Love and the lush alto flute of Larry Williams on The Nearness of You. Alphonso Johnson's trademark fretless bass on this track is as taut and clean-sounding as ever.
Michael Paulo blows like Sanborn on I Want to be Around, which I appreciated because I don't really like the song much. The vocal is very strident on this one – whether it works depends on your taste.
Jerry Hey's bluesy, muted trumpet is perfect for my favourite Gershwin tune, Someone to Watch Over Me. This song is a masterpiece and Pauline and her stellar band give it due respect.
Jobim's Dindi turns up frequently and this mid-tempo, very measured arrangement is very fresh and appealing. Listen for that man Wild again!
I'd be failing if I didn't mention the contributions of two more guys. David Garfield has not only lent his arranging talent to this set but his crystal-clear acoustic piano washes over the listener throughout it. Recording and mixing engineer Steve Sykes has delivered a sound which has achieved something remarkable- playing this CD on a car stereo and a portable CD/radio is a satisfying experience which makes the equipment sound better than it is. On my big system, it should sound awesome.
OK, I went into more detail than I meant to. It's just that I can't normally get excited about an album of cover versions and I found one heck of a lot to like in "Tribute".
McClees 2001 – producers David Garfield and Blue Johnson
Reviewed by Chris Mann