Tute by Martina & Company
– Reviewed by Chris Mann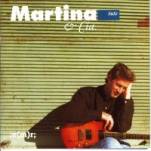 Guitarist Daniel Martina studied at the School of Music at Rosario National University in his native Argentina. His musical training was furthered in Buenos Aires where he founded the jazz-fusion group Solobanda.
He developed his writing and arranging talents with Solobanda, producing a demo with them. In 1987 he founded the Daniel Martina Quartet playing jazz standards but using guitar synthesizer – with them he recorded his second demo.
Since 1996, he has led the band Martina & Company, which has combined traditional Argentinian music with modern jazz sounds. With that band he has recorded his first solo album "Tute" – which despite its up-to-the-minute sound, gets its title from a very traditional and cerebral card game.
The title track is not any typical Latin track and has a slightly offbeat rhythm. I liked the percussion and keyboard sounds on this mid-paced song. The clean and very jazzy tones of Martina's electric guitar have no trouble taking centre stage, even among the other talented and tasteful players here.
There's a sexy Latin sway to Bimjo. The nylon strung acoustic guitar sounds gorgeous. The tone is very jazzy. Listening to this places me on the balcony of a funky wooden beach house which I can imagine but which I've not visited – yet.
Martina is back on electric guitar for Zamba del Laurel but the female vocal in Spanish from Sandra Corizzo is the star here. This is a simple, unadorned sound, almost traditional.
Oh, there's a much more modern, funky sound on Flora Stomp. There are shades of Lee Ritenour (who Martina acknowledges as one of the masters...). I really like how this song moves, with pleasing chord changes and shifts in rhythmic emphasis for the choruses. By the way, this guy is a jazz player.
More sexy Latin sway on the pretty Si… and more female vocals too. It's a slow song with a sweet string sound, very traditional percussion and that warm acoustic guitar.
Avutruca brings in another slightly offbeat rhythm but the smooth soprano sax of Emilio Maciel (sounding like Jay Beckenstein) and Martina's melodic electric guitar bring it all together. The subtlety of the keyboard and rhythm guitar make this song a delight for me. It's hard to imaging producing a track as complete – and as subtle – as this one. Lovely!
The ballad Hechizo Especial is another accomplished production and despite the drums sounding synthesized, Martina's made the technology work for him and he's a master of light and shade. I have to keep reminding myself that this is his first solo CD. Yes, yes, I'm always going on about bass players – well Gustavo Luciani is the dictionary definition: his sound is clean, full and it holds everything down well. He's got nice moves and true class.
Blues de la Gabyota starts off like Sanborn's "Bang Bang" but it's not nearly so riotous. Another of Martina's influences is Larry Carlton and this smooth bluesy number could easily have been on a Carlton album. By now, you might have noticed that in my reviews I pick out tracks which would work well live – look no further!
Another offbeat rhythm arrangement is featured on Canción para Valdés Alva. The melody is also a little offbeat. I found the song hard to stay with.
There are strong commercial possibilities for Geriba. As a single this would make some waves. That chunky bass and drum track makes the perfect backdrop for lovely acoustic guitar soloing. The vocal harmonies on here are exotic and all the better for being in Spanish. Had to turn this up – this is the standout track. More, more, more!
The instrumental version of Si… is sexier than the vocal somehow. It's a bigger sound with just enough percussion. The electric guitar takes the lead and floats beautifully over the tight rhythm. The backing vocals are cool and the way this song builds points to major songwriting and producing talent. Radio DJ's need to get behind this music.
The closer Aires de Chapelco is a warm, mellow solo acoustic number.
I'm amazed that an artist I never heard before on a small regional record label has delivered a self-assured, very involving CD like this as his first solo effort.
It's such a pleasure to be asked to review such good music and even to be in a position to increase its audience. If there is any way you can hear this CD, please listen to every song. Daniel Martina is going to be a big name in smooth jazz – you heard it here!
:e(m)r MPR25 – producer Daniel Martina
The CD can be obtained from the following websites:
www.cdstreet.com/artists/danielmartina
www.blizzardrecords.com/bands/603/