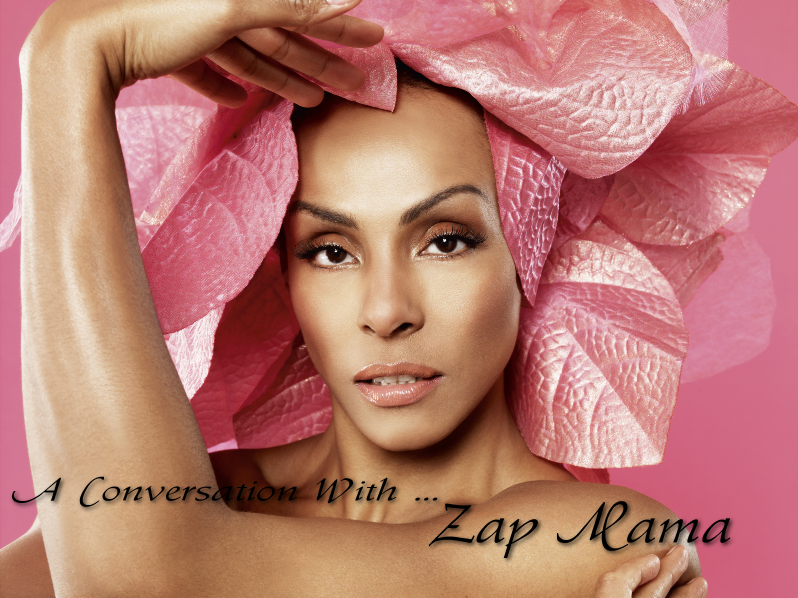 Zap Mama, African Queen, creator of African European music, exotic pop wonder performed on May 2nd, 2009 in Mulheim, Germany. The concert was the start of Zap Mama's worldwide promotion tour for her new album ReCreation. After the rehearsal and before the opening of the concert I had the chance to talk with her.
hbh: First of all I want to express my gratitude that you give me the opportunity to interview you.
zap mama: I thank you too to accept to interview me.
hbh: You had some trouble during the flight?
zap mama: Yes. I missed the flight. Clearly. I missed it. I was late. When we arrived, I didn't think that traffic is so busy in New York City. I forgot that I was in New York City. And when we take the bus, we stuck on the traffic, we stuck, stuck, stuck. The length was not enough that I jam on the subway, because the line will be direct. I said to the taxi, let's try the subway, the subway stuck also. It's ok. Finished.
hbh: You was there with your whole family?
zap mama: No, only my daughter. Because I was looking for an apartment.
hbh: Ah, yes. You want to drive back to New York now? You live in New York, you go back to Brussels and then to New York?
zap mama: Yes, half. I live between Brussels and New York because my family in Brussels is the task to care of as a mother and my business is in New York.
hbh: Ah, yes. It's business reason that you want to stay in New York now?
zap mama: Not this only. My family is friends, blood friends, family is blood, is in Brussels and my family community music, creativity, my life is more in New York.
hbh: Yes. You have an American label, Heads Up International and you have now done two records.
zap mama: Yes. And they are awaiting for me to be present in the Unites States as much as possible.
hbh: You promote your new album. This album is called ReCreation.
zap mama: Exactly, ReCreation.
hbh: What does that mean?
zap mama: But it is clear. There are too possibilities recreate a new person. Ourselves. Because every day is a new day, a new sun, a new moment, a new present and that we have to create something new. We have to bring joy, we have to look in happiness, we have to eat, we have to recreate ourselves. And when we take conscience that the recreation brings positive in it and in the same time recreation brings joy and you enjoy recreate everything.
hbh: Music is all about enjoyment, entertainment.
zap mama: Yes, I'm born for that, I think. I am easy, positive, full of lot of energy. I have to naturally bring that. I arrived a place I didn't realize that. All the flowers and people like to be near me. And I take conscience of that and I offer that as a service for the world.
hbh: You have no musical education or did you studied music?
zap mama: I'm born in a family African part. They were singing a lot. It's part of the education and my Belgian family are very liturgical. They sing a lot in a choir. That was my education that half of my family in Belgium are musicians. Born in a world of music was of importance, but at school I didn't choose music first. I did choose painting and history of art.
Music took me so much. I went to Congo to discover my family in Africa I didn't know, because I grew up in Belgium from zero to eighteen.
hbh: Your mother was born in Congo.
zap mama: Me too! But I arrived as a baby in Belgium. But I grew up and I met as a half African woman and a half a white woman, Belgian woman, that I gonna know what is African woman and what is European woman and what is be both, you know. And I went there and I received from those women the sound of melody and harmony. That is a plus I can bring over there and I can bring my European skill for them too. And it's beauty is the harmonies like this, blue and white, the always harmonized things and the beauty of harmonizing.
And then I started learning their songs that my mama teaches me already and I went back to my mum. She taught me and I started to give lessons to kids saying this is the way African have rhythm in the body because they sing like this. An I taught them stories with singing and rhythm. And then the parents started staying in the class, because they enjoyed my teaching and after they asked, "Don't you want to give lessons for adults?" And that's the way it started. I gave lessons for adults too. I was a young lady.
And then, "Don't you want to give a representation?" I chose the best of my students and I gave representation towards people and from that moment the world wanted.
hbh: It was at first an a capella project? Only vocals?
zap mama: Yes.
hbh: The first albums were only a capella albums.
zap mama: Only voices and only women. I didn't know. It happened. I was looking for singers and there were twelve people, there were men there, and after we stayed together it were finally only women. The journalists started to write, five women, a capella, here we are women. Everything happened before I know. Nothing is prepared in my head. But unconsciously, subconsciously probably yes. But I was just doing it.
hbh: They were Belgian and African women?
zap mama: Yes.
hbh: Did you meet the African women in Congo?
zap mama: In Belgium.
hbh: And the project was called Zap Mama. What is the meaning of Zap Mama?
zap mama: Zapping from culture to another because I can be a Belgian woman. If you close your eyes and you hear me talking I can be a Belgian woman and also I can be myself as an African woman too because I can do like my mum, talking a little bit like African (hand clapping). I can acting both and I fit into both cultures because I grew up in both. And I say, I can be anywhere. It depends of my spirit, the way I open myself. And I say, it doesn't matter what color and what culture your are, if you open your spirit, you can travel to and fit into everything.
It's true, if I am born in Belgium, I have an Belgian accent. I will never have a perfect American accent or German accent. But I am don't talk about that but I talk about the emotion as a human being.
hbh: You are a multilingual woman?
zap mama: No.
hbh: You speak English, you speak French, you speak Bantu?
zap mama: No. Not really. A little.
hbh: And German too?
zap mama: No!
hbh: No German.
zap mama: Ich liebe Dich (laugh).
hbh: Thank You (laugh).
hbh: After your first albums you made a new album called Seven. That was the first step to play as single artist without the other women.
zap mama: Not all, with two of them. The old women stopped singing, one went back to the theatre, one became a mother and on this new album I bring the band together, a capella.
hbh: Yes, it's a reunion of the old formation.
zap mama: Just beautiful. That's the beauty of it was more the femininity that we put together. I think it was the more powerful things. I talk to you because you are the woman there and something very beautiful that finding ourselves becoming women past forty. We just all passed our forty now, that's like wow. Everything is a new thing. It's so good to be there.
hbh: Music is your life.
zap mama: I think, music chose me.
hbh: Yes.
zap mama: Sometimes I am sad, because I want to stay with my kids and I travel.
hbh: How many kids do you have?
zap mama: I have two.
hbh: One, your eldest daughter is singing with you on your new record now.
zap mama: Yeah, she's beautiful. She is fifteen and I am very proud of her.
hbh: And she's prepared for a star.
zap mama: I don't know. She will choose. She always wanted to be a singer.
hbh: Choose to walk in your footsteps.
zap mama: I think, she enjoys it. Because (laugh) she was with me for all my meetings and she dig it. When she arrives she is acting like me.
hbh: Ready for take off.
zap mama: Yeah. I say Baby, you are so comfortable! Since she is little, I bring her everywhere (laugh). My name is Zap Mama and when I do meeting, I am acting like a mama. When people say hi, I have one little one. Other way she is crying, "Where is mom, what is she doing". Look it, what I do. It's boring, you sit there, I am talking that you don't progress home. Then you play with your cousin and everything, you know. Otherwise you have no idea, where your mom is always gone. It's better, she see.
And at age four she told me, "Mama I don't wanna go with you anymore. I stay home." It was easy for me travelling and she was staying in Brussels. And now she is fifteen, she knows she wants to be on the road. She is now with the musicians.
hbh: Participate the family in your own work?
zap mama: Yeah, I have had a hard time with my husband. It was more difficult. Because I travelled too much (laugh).
hbh: You started your new album in Brazil.
zap mama: Yes!
hbh: You travelled to Rio, and you made the first recording in Rio ...
zap mama: Yeah.
hbh: .. with Mr. Cassel. It's a French actor.
zap mama: Yeah. Beautiful man.
hbh: Which tune was the first tune you recorded in Rio?
zap mama: Paroles, Paroles. Do you know that song in Germany?
hbh: Yes. I know it.
zap mama: It was successful here?
hbh: It was a great hit. It was a hit with Dalida and Alain Delon ...
zap mama: Here in Germany?
hbh: ...in the French version. There is also an Italian version. The first version was for a TV serial called Theatre 10 and Paroles, Paroles is a cover version of this old song,
zap mama: Yeah. Yes, I heard that through the choreographer. I am so proud of it. Do you like it?
hbh: Yes. It fits your behavior, your attitude.
zap mama: Yeah. Especially when I reached time forty. It's perfect. I feel like a woman (laugh).
hbh: Was it the only tune, you recorded in Rio or ..?
zap mama: No, no! Almost all. Half of the album, yes! I mean, the spirit of the album is born in Rio. And I started composing. Everything was composed there. Like the vibes, (ssshh), and everything and even the lyrics. Sometimes I asked the guitarist and I chose a part and I moved all this to Belgium, working with the engineer over there to rearrange the way I wanted it and after it I moved all this to the Unites States to finalize it.
hbh: But I believe, most of the tunes are French chansons or Pop music. There is only one song which has some Brazilian attitude. This is Hello To Mama. This is a little bit Salsa..
zap mama: No! Paroles, Paroles is kind of a Bossa, French Bossa because it was in the past. It sounds French, but the French took everything from Brazil. It's why it sounds French. But the guy who made the arrangement was a Brazilian and (singing) the way you look at me, the way you talk to me, that's also Bossa Nova style. Because the way I sing, I sing a Portuguese song. But now I sing in English.
hbh: You speak Portuguese?
zap mama: No. "Eu dou muito dinheiro" (trans.: I spend much money). That's the only thing I know (laugh).
hbh: It's always a question of money (laugh).
zap mama: Before I was singing No Tengo Dinero (trans.: I have no money)... et Sergio Mendez. Je recontre Sergio Mendez et je mange avec lui et depense beaucoup dinheiro (trans.:I met Sergio Mendez and had a dinner with him and spend much money). And I say now: "Eu dou muito dinheiro". Merci now, I changed "Eu dou muito dinheiro".
hbh: So you are influenced by Brazilian music now.
zap mama: Yes. It started with Sergio, because I was recording on his album and we have so good connections in Los Angeles. And I stayed with his wife. She speaks perfectly French. We were in Beverly Hills. And we talked about this and that and we forgot Beverly Hills, we went to this little world of simplicity in our conversation. And I called Vincent Cassel, "if you want to record me, come." Ok! And I went there. Puff, beautifully!
hbh: That was the ignition with the new album. Can you tell me more about your new album?
zap mama: I am proud of this new album. I swear when I say I am proud because it was a pure joy doing this album. I decided to start in Brazil, a beautiful country I discovered and I was with my son. And I decided to make that journey with my son as one of the most beautiful journey of his childhood that he inspired me.
Because I remember when I was little I had an auntie with a lot of colorful dress in silk and she made me dream with the sun and I wanted to give that dream to my little one. Then I started to have long dress beautiful colored and Vincent Casell was shooting a movie there. And he came to the villa that we were lucky. No hotel we stay, a real old place, typical Brazilian with big stones from Portuguese time. And this little boy was in paradise enjoying big. And I had that beautiful joy of him. He put the house in a top of a rainbow and I said this is it. I am sure, this stays for him all his life. And I hope, he gonna use it.
hbh: You had some sightseeing in Rio. You have visited ...
zap mama: Buzios.
hbh: ..the Jesus Christo statue...
zap mama: Yeah. We did that.
hbh: Copacabana, Ipanema..
zap mama: Yes, we walked all around. And the little one visited the garden of the composer... I am too tired to remember his name..
hbh: Jobim?
zap mama: Jobim. Because I was on studio that I had a nanny there. She showed him the beauty and we really touched the ocean when we arrived in Buzios. Buzios is a little city over there. Vincent took care of us like a king. We were good. And I said "It's so beautiful that I have to compose because this is ReCreation myself. I am discovering the sun in me.
Because the previous discover was the moon. I was more in sadness because my best friend past away. I didn't know how hard is sadness because You have always been happy.
hbh: That was your first album Supermoon...
zap mama: Supermoon was the album before this one.
hbh: ... with the sadness.
zap mama: With the sadness.
hbh: And now it's more pleasure..
zap mama: Yes!
hbh: ... more joy..
zap mama: Yeah! Because we cannot stay there in the sadness. It's hard.
hbh: When do you return to New York to stay there?
zap mama: Last week.
hbh: No, when will you return?
zap mama: When will I return? In ten days. I'm gonna start a new life.
hbh: In Joey's bar?
zap mama: Joey's bar, Joey's Club.
hbh: Three days ..
zap mama: Three days to present, to showcase, to show the new album.
hbh: You drive around America to promote your new album.
zap mama: Yes. This time I do not want to do plenty of countries because it's tiring, the flights.
hbh: But you also will play in Norway.
zap mama: I will go where people really welcome me. I'm not going little, little, little. It's tiring. I am down that. When you are young, twenty, thirty, it's ok. But from a certain age you want to play be welcome offer and then settle, you know. Otherwise I will never enjoy life. Stable, you know. I want to be able to have breakfast, really take time to enjoy breakfast. When you are on road, you have no time for breakfast.
hbh: You recorded your album last year in 2008.
zap mama: I started May 2008 and I am ending November 2008.
hbh: Do you have already new projects in mind?
zap mama: Already. I'm shooting in Mali.
hbh: You have a contract with Heads Up International. For how many albums?
zap mama: Two albums. This album is the last.
hbh: And then you will make an independent project or will you make a new contract?
zap mama: I'll wanna both, because I am an independent and offer my albums when finished to an distribution license and when this album runs well, probably label wants me.
hbh: Is it for you more difficult to sell your albums today?
zap mama: Yes. For all of us.
hbh: The sale rates are going down.
zap mama: All now! But I love it. You know, music starts in the street. All musicians started in the street and they all eat what the people want to give them. The joy they received after they made business and it was the golden time of music. I had the chance to start when it was the golden time. They offered the red carpet everywhere. And after it became the purple nights, there is no more carpet (laugh).
hbh: We come back to the ground.
zap mama: We go back to the ground.
hbh: But when you are on the ground, you have a better contact to the audience.
zap mama: Yes. I'm there. I am serving music. I'm born for that. When you know, for what you've been born, you have to do.
hbh: You are born for live events. You want to be onstage.
zap mama: Onstage with people. Yes, it's easy for me even in studio composing music. I would like to compose for workshops. It's the first time that I would like to go back to workshop, because I started with workshops.
hbh: Would you like to go to Berklee and teach there?
zap mama: Yeah. Not everyday workshop, like once or two a month I can do that. And I would like to propose my service in the Unites States because I left there and over there is the prize of everything so high that now when I don't make enough money selling albums that I go back to the people. So I offer my service that I make workshops for you. You want to learn what is polyphony, what is all the African techniques, vocal.
hbh: Is it Bantu method or is it pygmy song?
zap mama: The method is mine but coming from my education. My mother teaches me all old traditions. No writing traditions. And what I try to say to them is, you can take note but I prefer it you record that you have to learn from sound not from writing.
hbh: Can you give us an example?
zap mama: The sound?
hbh: Yes.
zap mama: Yes. What can I do? That is typical Zap Mama not pygmy. (sound)
hbh: This is like beat boxing.
zap mama: It is a little bit like that. Beat boxing is like. (sound) It is more like this. This is more singing more feminine.
hbh: It's manipulating your vocals. Playing with your vocals.
zap mama: ... and the breath! This is what I do. And like the pygmy, they play with bottle and play with the breath. This is pygmy more.
hbh: But this instrument is also in your albums.
zap mama: Aehm, yes. Not this one.
hbh: I read it in the editorial that you want pygmy song on every album.
zap mama: Yes. It's true. One sound. This is what I did.
hbh: You start with ReCreation and there is some element.
zap mama: Let me... You have the title? Because with my jet lag I cannot think. (Searching in the papers). Singing Sisters? May be, no. Paroles, Paroles, non plus. Togetherness, this one. We did some sound a little bit. African diamond!
hbh: Do you know that the end of the song reminds me of Walk On The Wild Side?
zap mama: Yes, Lou Reed. Yes, like hey guys, do you remember that song? Look at this eternal. Yeah. I like this moment. African diamond. Has something. The Way You Look At Me. This has also, I made with Bilal. I brought him this world. Follow me in this kind of sound. Where do you bring me? Because he sung Soul. You're going a little sound and we're going a big sound. (sound) This is typical melody pygmy.
hbh: You have also worked with other African artists like ...
zap mama: ...Tony Allen, the Nigerian drummer from Fela Kuti.
hbh: Yes and also with Ladysmith Black Mambazo.
zap mama: Yeah!
hbh: They are also an a cappella group.
zap mama: Yes. In the former time we were a capella and they asked me to sing with them on the last Mambazo album. Not the last, the one before.
hbh: The leader of the group is rather old now. He has founded the group thirty years ago and he is always on the stage. I' have seen the new album. It's a DVD/CD and he is onstage and is always making the stretching.
zap mama: Yeah (laugh). Amazing.
hbh: Are there more African artists you have contact or performed with?
zap mama: Yes. Makossa. Comment s'appelle encore? The one who inspired Michael Jackson. What is his name? The one who create Makossa (She means Manu Dibango).
hbh: Hugh Masekela?
zap mama: No. I performed with Masekela also. I was on the Cape town Jazz Festival three weeks ago. Hugh Masekala was there. The performance was fun. With Angelique Kidjo we performed sometimes. Oumou Sangare performed with her too. Oumou Sangare is from Mali. Who else is a singer from..
Baaba Maal, I met him, but we never really sing together. Performer. I'm looking for performer. Miriam Makeba was the one who helped me to become where I am. She helped me, decided to protect me, to be my good mother in the beginning. She was living in Belgium.
hbh: They are all artists on the Heads Up label. Miriam Makeba, Ladysmith Black Mambazo and Hugh Masekela. They are all artists of this label. Dave Love is a very great aficionado of African Music. He made several albums of Smooth Africa. You know about this serial? Smooth Africa?
zap mama: Yes.
hbh: I thank you for this interview.
zap mama: You're welcome. Thank you too.
hbh: I hope you have much success with your new album ...
zap mama: I count on it.
hbh: ...and that you find your audience in Europe and America.
zap mama: Yes. Thank you. Thanks a lot. I hope Germany will enjoy the sun and the ray I put in. The well-deserved beauty.
hbh: And today we'll have a great party, where you can live with your audience.
zap mama: Yeah. Absolutely! Thank you, bye bye!
hbh: Bye, bye!