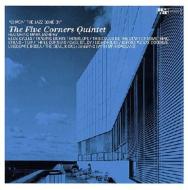 I think that it is safe to say that it does not get much better than this. The Five Corners Quintet are a Helsinki based jazz outfit and an extension to the acclaimed Nuspirit Helsinki collective. Led by producer Tuomas Kallio who recently told me that there success is in being able to collaborate with people from different backgrounds and develop the genre of formal academic jazz which is something the US refuses to do.To which he should have added as an aside that they also happen to make you want to dance too!
This debut album features a mix of groove laden instrumentals with a distinct Blue Note jazz influence from the sixties and yet it sounds as fresh as anything that I have heard all year. Tracks such as 'Trading Eights',' Lighthouse' and 'Unsquare Bossa' are examples of crafted stylish jazz tailored for the dance floor kept vibrant by the cross section of ages present in the group. Frankly an album of those alone would have given me enough pleasure, but add to this vocals from Parisian based Okou and the piece de resistance, the incredibly cool and hip, Mark Murphy and you have an album originating in Heaven!
Check Murphy on ' Before we say Goodbye' and you are listening to a master craftsman at work backed again by Kallio's superb production.The album is really is one of the years best, search it out and become a part of the future of jazz.