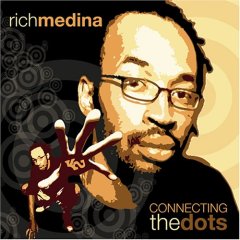 Hailing from Philadelphia in the US, Rich Medina is a poet, promoter and personality on the underground music scene world-wide. The producer behind a Jill Scott album has now found the time to compile an album of diverse genres from the spoken word to bass heavy future soul. Connecting the Dots is his debut and is a strong statement on the power of music across the variety of styles that is today's soul music as far as Medina is concerned. This is NOT a collection of neo-soul per se but more of a collection of progressive soul as Medina takes things to the next level and shows us the future.

His spoken word interlude comments sound like a younger version of Gil Scott Heron and the influence continues into tracks such as 'Emancipation Suite' which manages to mix jazzy flute, african rhythms and a chilling house beat into one irresistible groove.

It is not just the breadth of styles which is impressive, it is also the overall quality that Median conjures up on every track from the ambient 'Checklist Ninja ' through to the happy almost club like vibe of 'Out of Nothing,' Medina leads the way for REAL soul music to hold its head high in the 21st century and become the leader from which other forms would wish to emulate.