Walking down a side street in the beautiful Dutch town of Delft some years ago, I came across a Record Store, which to someone like me is as if Christmas has come early! Putting one's priorities into perspective I turned my back on History and Culture and walked straight in! Now my Dutch regrettably is not as good as it should be ( a polite way of saying that I don't speak a word!). Thankfully, the words 'radio', ' D.J', and 'funky' are the same in any language. Having suitably lost any of the 'cool' image with my limited linguistic skills it took a further dive when the person behind the counter replied in perfect English, ' Hey man good to meet you, try some real funky stuff out of Amsterdam ' This was my first introduction to the music of Candy Dulfer.
Candy is one of those artistes that is phenomenally successful in some parts of the world and unheard of in others. The new album 'Live In Amsterdam' is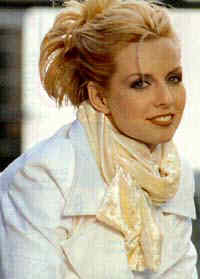 a good introduction to her music as it features some of her most popular numbers. And boy is it funky! It is however a slower track that is my personal favourite. Her rendition of the Isley Brothers classic 'For the love of you ' is worth buying the album for on it's own. An already beautiful song taken to new heights by the clear melodic saxophone work and the introduction of one Angie Stone on vocals. The interplay of vocals and sax as the track builds is reminiscent of the way that Philip Bailey and Ernie Watts handle the live version of another of my favourites 'Reasons'.
Candy's apprenticeship with the likes of Prince, Tower of Power, Maceo Parker and others shines through with the funkier tracks particularly on 'Sax A Go Go ' during which the band get well into Kool and the Gang's 'Funky Stuff ' and Miles Davis's 'The Serpents Tooth'
This is more Urban than Smooth, but to me who cares about genres, particularly when you are having a good time!
The ten minute working of Average White's Band 'Pick up the Pieces' highlights her brassy band and again the tight but clear sounding saxophone. Her talent is making music become funky and jazzy and yet still have appeal to those that would not necessarily give this music the time of day. It's the type of 'get down party music' that you would have to be dead not to move to!
Oh, and by the way the recording of the Live concert is superb in terms of its Quality, and I am not overly fond of live albums
Now if only I could speak Dutch she and I could really have a good time –on my radio programme that is !!...................
J.L. SAYS PLAY IT LOUD AND BE PROUD.........ONE FOR THE DOWN TO THE BONE GANG.
CERTIFIED...........8/10
CANDY DULFER: LIVE IN AMSTERDAM. BMG 74321 826082.