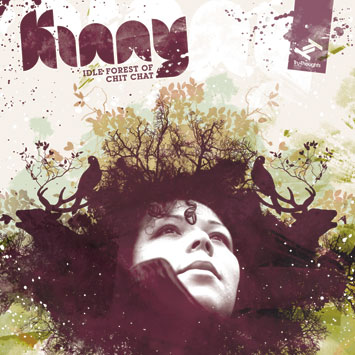 The dependable Tru-Thoughts label from Brighton delivers another gem in the shape of this debut release from Bergen based Kinny aka Caitlin Simpson. First coming to my attention with the excellent 2005 set 'Kinny and Horne' with Espen Horne she now strides out on her own with a diverse set of jazzy modern soul.
A well travelled lady; the influences that brings are well in evidence here as are the different styles of several different producers ranging from the electronic soul of rising Norwegian star Souldrop to the deep modern jazz of Nostalgia 77. Kinny is a classically trained opera singer who now prefers the passion and freedom of jazz, soul and reggae, however what the more formal grounding does for her is that it gives her the confidence to lead vocally with the minimal amount of instruments backing her dulcet tones.
Check out the already familiar 'Forgetting To Remember' with double bass backing and the title track 'Idle Forest of Chit Chat' to realise that you do not need big orchestrations to sound good. Whilst the latter ends with brass it does so in a way that still allows the voice to dominate and Kinny does just that with vocals that soar and interpret the songs with intelligent phrasing and difficult vocal chord changes that are to her exceptional talent effortless in execution. This is future soul no more evident than in the variance of styles prevalent in the track 'Water for chocolate' where again the simple but effective backing allows the sheer quality of the singing to shine.
This is a hugely accessible hip album where the redefining of the soul genre deserves the same sort of acclaim that came to a certain Ms Winehouse.Make no mistake, Kinny rules and long may it continue!