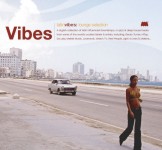 Legend has it that Manchester, England has more reports of U.F.O sightings than anywhere else in the world. The fact that nearly all of them turn out to be the 'Sun' says something for the area's notorious grey climes. Equally, surprising then is that an album full of eclectic latin sunshine vibes should emanate from the city.

Surfacing originally in 1999, Mettle Music is the brainchild of producers/ DJ's Nic Conef and Mark Wadsworth. This is their first foray into compilations and they will find it hard to better the standard chosen for this set. Latin flavoured Nu Jazz, broken beats and downtempo lounge all mix stylishingly together to form a cool, chilled but funky album for those with cosmopolitan tastes.
Check out gorgeous laid back grooves such as 'Deep Solution' with it's subtle jazz flavours and the unrelenting piano-led 'Rio Orchestra'.The stand out track is without doubt 'Reel People' as it gradually builds in a complex rhythmic pattern over soulful vocals to its climatic scat ending.


There is no doubt that compilations of this nature are on the increase and sell well to a hip market of music lovers that like to be ahead of the game. Mettle music are maturing to become leaders in the field and with this standard very few will come close to matching their musical pedigree.