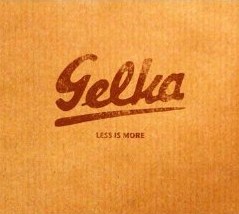 First coming to our attention via the Cafe Del Mar compilations of recent years Budapest Producers/Musicians Gelka seem more at home in the Balearics rather than Hungary. Yet it is the vibe of the latter with its almost guitar dominated folksy roots that gives this debut set an edge in the music of the good groove.
Intersped with some strange sound effects of no benefit the album largely features a variety of good quality tracks that mix chilled-out funky tempos with the soulful vocals of Ghanaian born Sena. Most notable being the album's opening track ' So Many Ways' and the rhythmesque Eartha Kitt influenced ' Blame' with ' Angry Eyes' bringing out some rastafarian funk and social comment!. Melodic guitar rhythms and relaxed horns feature heavily on the album with 'When you gotta go you gotta go' being a real treat over a sunset and a glass of wine! The album's stand out track though is the catchy 'Soon' sang by the very soulful British vocalist Elly May.
Overall, the album is downtempo electronica urban blues with some added soul and beats against a background of hungarian melancholy and oozes class and style worthy of exploration.