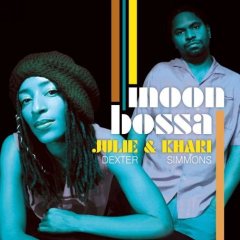 This is a interesting collaboration. The multi-talented English Lady from Birmingham and the bass player from the India Arie Band, Khari Simmons. Both now residing in Atlanta which presumably is how they met up. Though with Incognito's Bluey as an A and R advisor to the project it wouldn't surprise me if the ever enthusiastic one had a part to play in the relationship! Whatever and whoever takes the credit becomes largely irrelevant when the quality of the material is this good. Julie herself is no stranger to Bossa Nova thanks to her past work with composer Thomas Naim and Khari has a long held an affection for the music which he appropriately dubs 'Soul Bossa'.
The album itself is a mixture of originals and cover versions of songs from the likes of Basia through Everything But The Girl to Sergio Mendes. Of the newer material 'The Dove' combines the delightful soulful vocals of the classically trained Miss Dexter with a strong saxophone solo that has distinct jazz undertones and a laid back groove all in the matter of 210 seconds. The track oozes quality and the album also features a 'Jiva' remix from Khari himself. But it is another remix, that of an original composition 'Venusian' which has my vote for the standout track of the album. Always rhythmic in nature it builds to an unrelenting jazzy groove which clearly pays homage to Incognito. After sax and piano solos it breaks in the middle and you know that what is about to be unleashed is music of a rare quality. You are NOT let down. At nearly 8 minutes in length you still wish it could last a little longer!.
With the infectious instrumental 'Sea and Sky' and the sublime 'Fooled By A Smile' this is an album perfect for the summer nights and yet equally at home in the glow of a winter's log fire. A JL contender for album of the year which is released in Europe by those purveyors of quality soul, Dome records. Check release availability locally as the album has yet to even feature on the artists websites!