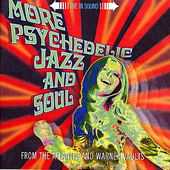 This is what could be termed an album from the left field. Obviously selling well because this is No.2 in the series from Warner Jazz. Predominately though this is one of those releases that sits right in there with those of you who are looking to expand your musical horizons.
Mixing the rare and sought after ' Brain of Oskar Panizza ' by Michael Bundt a brave choice from a solo album in 1977 which was one of the first real electronica sounds with the heavy jazz fusion of Eddie Harris and Freddie Hubbard.
Make no mistake there are some real grooves on this CD which has been excellently compliled by people that really know there music and where to find that rare but quality driven recording. Check out the track by Cold Blood recorded in 1973 to realise that talent does not always get to the top. Keep the education coming Warners.!!