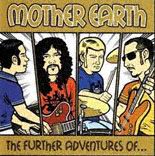 Originally formed in 1991 as a loose funk collective Mother Earth became the link between sixties rock and latter day soul and funk in the nineties. In those days Acid Jazz led and others followed and Mother Earth were the first and biggest of it's exponents.
Thus to learn of this album of rare and previously unreleased material featuring several famous artists including Paul Weller, Gregory Isaacs and Tom Robinson was to conjure up memories of a long lost youth when I discovered that the rock guitar did not fit into my idea of funk and soul.
That is my only criticism to the style of Mother Earth which as conveyed on this album has at it's centre a heck of a lot of soul and real funk but utilises the guitar far too much in the conveyancing of it's songs.
Think of a combination of Tower Of Power without the legendary Horn Section and the James Taylor Quartet with a rock guitar and you have the Sound of Mother Earth. Though at cult status in Japan and a live sound to die for it is the newer tracks that appeal the most.
The Gil Scott Heron written first track is a fine exponent of the Mirth's raw funk and jazz style that appealed to the Mods of us and with the inclusion of an updated version complete with biting political comment from Mr Robinson of ' Power In the Darkness ' the scene is set to explore further. Which bodes well to seek out possibly there best album on Acid Jazz from 1993 'The People Tree ' and the new music that they are rumouring to be working on. All in all raw soul with some funk and real emotion from the East End of London just seek track four of the album it's goosebump material and worth the price of purchase alone. Welcome Back. Mirth !!