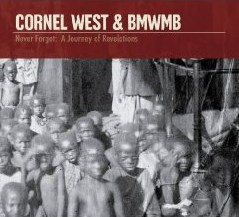 Not particularly well known outside the US, Cornel West is a Princeton University Professor, author, orator and recording artist who has been called one of the worlds most influential intellectuals.
On this his second album he again takes a step out of the classroom to embrace music and the hip hop culture as a medium for raising awareness on the state of the world. Addressing issues of racial profiling, politics, 9/11, war, poverty and a litany of other concerns of not just America but the world at large.
Never Forget is a powerful musical statement on how to ask and demand the answer to challenging questions targeted at the status quo, understanding the enormity of the problems and yet holding out hope for the human condition through unity, love and solidarity. If this seems like subject matter that is too heavy for you then you will be missing some of the best socially conscious music ever to be recorded.
Though sounding at times like Samuel. L. Jackson in his spoken word delivery it is his fellow musicians on this project that will persuade you to search it out. Like a who's who of soul music joining the person who was also an influencing force behind the storyline of The Matrix are in no particular order, Prince, Jill Scott, Gerald Levert, Outkast, Chukii Booker, David Hollister and Lenny Williams.
Indeed, Prince delivers in Dear Mr Man one of his best laid-back funk tunes for ages and Jill Scott's shortish neo-soul What time it is also stands out as a classic. Then there is real soul from Darryl Moore in the ballad Soul Sista, the gentle two stepper positive message of Everything Gone be Alright from the combined talents of David Hollister and Chukii Booker and we haven't even mentioned the full soul/slow funk of Gerald Levert yet who also gets a posthumous mention for his genius.
Frankly, this album is a milestone both musically and lyrically in its thought-compelling approach. Though it can be enjoyed just for the music on offer it is doing the album and Dr. Cornel West a great disservice, as it also deserves to sit in your collection as an intellectual stimuli for the plight of the world and a reminder that you should Never Forget that you are also an important part of the force for change