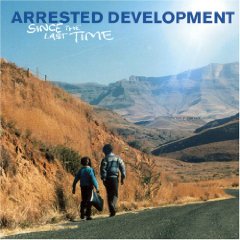 With the exception of perhaps The Roots no other group in the history of hip-hop has offered such an alternative to the aggressive negative gangsta rap pushed forward onto a gullible public. Indeed, with the exception of perhaps the audiences at the Jazz Cafe, London to which they returned on a regular basis since they began touring again in 2000 most of us forgot how popular they used to be.
Try 4 million sales of a debut album in 1992, the most critically acclaimed recording for MTV Unplugged in 1994 and two Grammy awards. But they were always more than just musicians, they were a socially conscious and politically aware movement determined to leave their mark on the world with donations to the homeless and others through their music sales.
Their return to 'wax' to use the term applied by lead vocalist and AD founder Speech in the title track of the new album is a 12 track celebration of 'life music' with infectiously swinging grooves and socially conscious vibes. Overall they appear to be on a mission to bring together all of the positive people of the world so that hope can be brought to the challenges of life. In 'I know I'm bad' the wordplay lyrics of Speech refer to the greater importance of spiritual wealth above anything of a material nature whilst the addictive,boucy and summery 'Sunshine' speaks with great emotion on the issues involved in falling in love with a white girl and rising above the prejudices to focus on the person underneath. Eshe, the groups main dancer takes the lead vocals on the raggafied 'How far is Heaven' a philosophical question posed to those in challenging situations. Throughout the album the female vocalising at times can bring goosepimples to the fore no more than on the jazzier yet still soulful 'Caught Me.'
Last year a friend persuaded me to go and see a free concert on Santa Monica Pier. It turned out to be Arrested Development having a party with thousands on the beach. Just another day in LA? No, this was Arrested Development showing people a good time through their music and leading the way along a road which we are all going down but this time finding hope and love on the way not violence and hatred.
This is a milestone album. Thank God they are back!