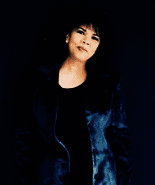 To many readers of this magazine the name Candi Staton (pronounced Stay-Ton ) is synonymous with just one record, the disco anthem 'Young Hearts Run Free'. In fact Ms Staton deserves far more respect musically and indeed in her life than just that of the label of a disco diva.
For example the aforementioned disco classic was written especially for her to honour women's liberation. "In my time Women were nobody unless they had a man. At the time I was going through a divorce and was married to a man that was basically a pimp. I was so naive and this song enabled me to learn that I could be anything that I wanted to be. That is why the song was sung with so much emotion, I really believed that for the very first time I could be free "Staton certainly does not hold back in her assessment of her life to date as her best selling autobiography 'This is my story' will testify.
Whilst recovering from a recent bout of Pneumonia she holds court to me whilst telling an ex boy friend, a certain Al Green who is enquiring about her health to call back, that you begin to realise that there is a lot more to this diva than just a musical pedigree.
"I was born into abject poverty, basically we didn't have anything to eat and at the weekend our house was so full of drunks that any food we had was eaten up by my father's drunken friends."
In these Southern states of the US like so many of her contemporaries, it was the church which gave Staton her first taste of music. Though despite singing with greats like Aretha Franklin and having a following of her own in her early teens, it was the pull of a fellow gospel singer Lou Rawls that made her run away to LA at the age of 18. Recalling the incident there appears to be no remorse when Staton cites Lou's mother as being the one who talked them around.
"She didn't want us to marry as she felt that Lou were too young, and that's the reason I came back home."
One senses that it is her new found christian belief that gives Staton the air of having no regrets, but her return to her home environment meant a temporary end to her musical career and a life of domestic violence, alcoholism and drugs.
"If it wasn't for my children I would have given up many times," is how she best sums up her many years in the musical wilderness. Rescued from this domestic hell by one of her brother's and soul legend Clarence Carter she meets up with producer Rick Hall who is looking for a replacement for Etta James for his Fame Records label. Together with the Muscle Shoals Horns, Staton makes an album of legendary status that was nominated as the best re-issue of 2004 by Rolling Stone magazine when picked up by the Uk's Honest Jon label.
Despite her new found love of Gospel Music which she terms as "Gosco", a combination of Gospel with a dicso beat it is her rendition of the Fame recordings that will drive many aficionados to the gig. No other singer shows such human suffering in her voice when she sings. "I am the happiest now than I have ever been," Staton told me between gulps of the medicinal 'Chicken Soup'.
"Some things are not planned, especially by you and the bad times give you the strength to be where you are now." For many of you at this gig you will be witnessing the return to the UK in a special one-off show of an enormous talent and also one of life's true survivors.