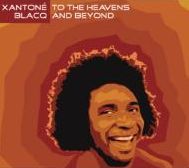 One of the interesting things that appeals to me about this genre is the ability to mix various styles and by doing so bring new dimensions to the music. Xantone has been turning the heads for some time of those who shape new trends and this album will bring the multi-instrumentalist,vocalist and producer out from the hear say of the minority and into the main stream as a major talent that is capable of influencing the development of the music. To put it simply this will be a contender for the album of 2006.
More importantly it will be remembered for many years to come as a groundbreaking catalyst for the innovative way in that it mixed soul, jazz and funk with world music. Xantone who spends most of his time in the UK describes it as 'free range sunshine music' and he's not far wrong! Tracks like 'Yes I do' have the influence of Stevie Wonder stamped all over it and 'Search for the Sun' is so Roy Ayers that it even comes complete with a vocoded vocal. The legend that is Pee Wee Ellis lends a hand to the funky 'Drive My Car' which together with another cover that of Chaka's 'I feel for you' are the weakest tracks on the whole album. However, such is the standard on offer here that when I say they are weak on any other set they would be standouts! Broken beats and lounge jazz come in the flavour of 'Smokin' and then there is Patricia Marx. Her vocals on 'Make me Wanna' are perfect for this soulful groove with fiery horn riffs that canter along to scats and cross rhythms.
Given the quality it is difficult to pick a favourite but just maybe the hippest is the final track featuring Troy Miller 'Without You'. Great jazz piano and a beat to die for. All in all it would have been far simpler for me to tell you just to buy the album but then I wouldn't have got to listen to it again and again!. Essential for those with discerning tastes and a landmark album for everyone who loves the music.