Vladimir Cetkar:We Will Never End
( Vladimir Vasileski-Cetkar)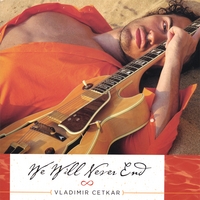 This has been bubbling around for some time and appears to be gradually gathering momentum amongst the soul collective with its definite throwback to the late 70's and early 80's disco scene. Hailing out of the South-Eastern European Republic of Macedonia, Vladimir is a graduate of the Berklee college of music and has some form with a previous critically acclaimed jazz album 'Live at the Ohrid Antique Theatre'.
On this outing however he seems to have embraced his soulful fusion influences possibly gained when working on a project with the Italian funk maestros, Jestofunk. From the opening bars of the title track we have a full heads-on Earth, Wind and Fire influenced scat mixed with sweeping strings and brass, held together with George Bensonish vocals. Indeed, so strong are these influences that on the track 'All For You' George couldn't have done it any better himself! It is a measure to the strength of the tunes and overall musicianship that this factor does not also become the albums greatest weakness.
As it happens Vladimir carries it off with some aplomb evidently enjoying himself immensely in the process such is the energy that exudes out of the CD. Most of the unforgivably short album is full of catchy grooves straight out of times past and some such as 'Born for the Screen' are destined to become anthems in their own right in the future. In the end Mr Cetkar (pronounced Chet-Kar) has produced an album which is like a breath of fresh air but I couldn't help but wonder at times if his creativity was too restricted by constraints outside of his control.