JAMES LEWIS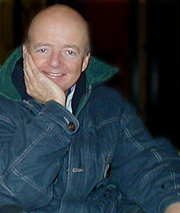 James Lewis has always been passionate about music. His radio show "JLJAMZ" regularly features big name interviews such as Spyrogyra, Chaka Khan, Pieces of a Dream, Phil Perry, The Temptations, Sounds Of Blackness, and Peter White, a mix unheard of on American radio. In addition James Lewis is a prolific writer of magazine interviews with the likes of Michael Buble, Roy Ayers and many others. But JL's desire to communicate runs even deeper.
James Lewis has enthralled audiences all over the world through both his music and his life story. At his regular speaking engagements, audiences are surprised to learn that this dynamic broadcaster and writer lost a child to cancer. Lewis is the founder and former CEO of a Children's Cancer Charity/ Non-Profit organization now helping thousands of children with cancer and their families every year through a variety of services focused on the quality of life.
In 1992 James Lewis was the subject of a television documentary called "Smoothing The Stone," a phrase Lewis used in his talks to describe the grieving process.
James Lewis' lifetime of experience makes him an excellent motivational speaker, talk show host or syndicated radio host, and he is willing to travel the world to share his experience with others. If you would like to book James Lewis for your corporate, fund raising or charity event or for a radio engagement, call 619.886.1628. Through his book which is nearing completion, his speaking engagements and his radio shows, James Lewis is ready to come to a radio near you and create JL JAMZ.