The Meeting Place
Ken Navarro
Positive Music Records, Inc.
Release Date: January 23, 2007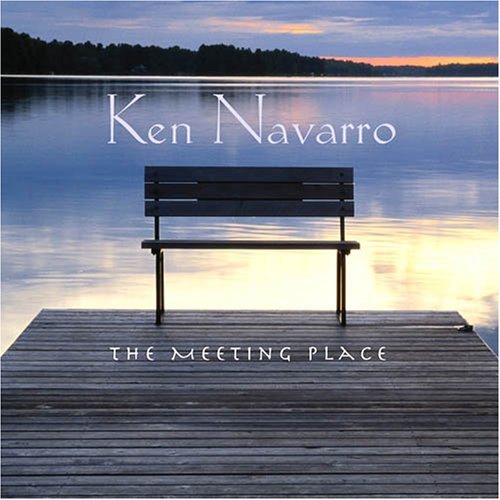 It has happened again. If you've followed Ken Navarro, you know exactly what is meant by that statement. This talented songwriter and artist has once and yet again delivered a singular masterpiece of an album that showcases his mastery as a technician, his spirit as a composer and the heart and soul of a man totally in control of his musical life.

There is a certain precision to "The Meeting Place" that is new and distinctive. It's calculated and purposeful, designed to uncontrollably force the listener to ride the frets and guitar strings with this master. Long-time Navarro fans will hear all the familiar riffs, hooks and find that comfort level that brought them to his music in the first place. This time however, those fans will also hear the variety of style, skill, influences and musicality that previously might have been the sole centerpiece of a project. Navarro delivers it and in a full, frontal assault compels the listener to dream, toe tap, snap fingers, and be enchanted and amazed. An excellent combination of everything you've always loved about Ken Navarro…all in one meeting place.

He's done all the right things too; surrounding himself with the comforts of his own studio, production and familiar, talented musicians. His session and tour buds like Jay Rowe on keyboards, Gary Grainger on bass, and Andre "Blues" Webb holding down the strong rhythms and their changes on drums. Rob Holmes' work on the tenor and soprano saxes is coordinated beautifully to lend the consistent "Navarro styles" and the percussion of Kevin Price is delicately intermingled on select pieces, always at the right time.

There is not a mediocre tune on this album. Some songs will take you to faraway lands, some will have you dancing on a beach (as in "Dancing With Melissa" from his Island Life CD, in particular the song "My Beautiful Girls"), Another, "The Challenge" that will deliver you from Copacabana to feeling the vibes of a Yes or Santana concert and then back again. Remember how in the past Navarro could send you figuratively underwater to swim with dolphins in his Love Coloured Soul song "Glass Dolphins"? The power to put you there happens again when you feel the spiritual struggle of "No Other Way", or simply enjoy a glass of fine red cruising towards a setting sun in "That Time of Evening". His unique ability to teleport you with his guitar and style have come more alive than ever on this album and like the musical magician he is, you're in a different place every time.

If one has to choose a highlight, it could perhaps be his rendition of the Metheny tune "Lakes". One needs to have only spent a few hours with Metheny's music to understand the strong influence and appreciation Navarro brings for this guitar great. In a moment of musical perfection, Metheny is rendered the ultimate compliment with Navarro's capture of this beautiful piece. The song rivets to Jay Rowe's prowess on the keys also and affords all of the musicians the opportunity to shine in a magnificent piece of engineering. However, Navarro's work and soul all come home on this one and it will leave you breathless!

"The Meeting Place" is the chance to enjoy a consummate and talented musician, very much at home with himself and his accomplishments. This in and of itself is a wonderful place to be, but when he beckons you in to the places he's set for you, you'll let go willingly and succumb to the musical trance and enjoyment of this wonderful album. Something you'll want with you at all times, no matter what the mood or setting.