Michael Brecker - Pilgrimage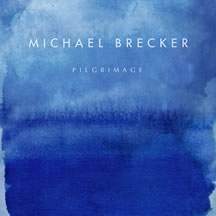 Many Jazz fans all around the world were very sad, when they heard the news, that Tenor-Sax player Michael Brecker passed away on January 13, 2007. And unquestionable this is a great loss for the Contemporary Music Scene, because Michael Brecker has been one of the most important figures in Jazz for the last decades. Playing with almost every important Jazz musician and winning thirteen Grammies, Brecker had influenced so many musicians like nobody else. So this CD called Pilgrimage has become the documentation of his last Pilgrimage to an unknown land. And it's a great legacy!
There are nine tracks on this record and each of them is a masterwork. The recordings were made in the short periods, in which Michael Brecker still had the power to play. The parties thereto never knew, what the next day would bring. The all-star lineup of great jazz musicians on this album includes such names as Herbie Hancock, Pat Metheny, Jack DeJohnette, Brad Mehldau und John Patitucci and their contribution to this album sounds like a last big "Thanks" to this outstanding musician.
The CD starts with The Mean Time, a fast number, where all musicians show their creativity and great ability on their instruments. The listener can grasp the intensive atmosphere in the studio during that recording. Tumbleweed is also an up-tempo piece of high energy with a nice floating melody and wonderful solos on the guitar and on the piano. As a counterpoint to this track When Can I Kiss You Again? is a catching ballad, where one can hear the sentimental feelings of each musician, knowing that this would be their last time playing together. The Question "When Can I Kiss You Again?" was asked by Michael Brecker's son, during Brecker's time in hospital, when he was not allowed to have any physical contact with others. The last few bars of the saxophone on this track just sound like a painful cry. Touching!.
Loose Threads was played for the first time with Brecker's quintett, which released the Live-Album "Directions in Music" in 2001. Two musicians of that quintet, Herbie Hancock and John Patitucci, are now also playing on this track. The title-track of this album Pilgrimage was the last recording, Michael Brecker ever made. So it's his last farewell to the world. This song is both, the swan song of a rich musical life and the crowning finale of a fantastic recording.
Here is what the Musicians themselves said about the recording:
Jack DeJohnette: "...During that time in the studio, one could feel a solemn atmosphere. The musicians were cheering on each other , not only musically, but also personally and spiritually..."
Herbie Hancock: "...Michael now has reached a new level as a composer and musician. Despite his disease, or actually because of it, he managed to climb higher mountains and to walk ahead. The best way to take a poison is to change it into a medicine. At the moment, Michael experiences something very destructive and changes it in something extreme constructive..."
Brad Mehldau: "...Michael has a clear vision, so that it is very difficult to define, where the person ends and the musician begins. This music just sounds so totally "Brecker-like", harmonically, melodically, rhythmically. But at the same time it is a single giant creative statement... "
This album definitely is a candidate to be nominated "Jazz Album Of The Year". With its musical forcefulness and high artistic level it marks one of the milestones in contemporary Jazz.
Michael Brecker - Pilgrimage
2007 Emarcy Records
CD 06025 1726351
Musicians: Michael Brecker (leader, tenor saxophone, ewi), Pat Metheny (guitars), Herbie Hancock (piano), Brad Mehldau (piano), John Patitucci (bass), Jack DeJohnette (drums)
Track list:
1. The Mean Time
2. Five Months from Midnight
3. Anagram
4. Tumbleweed
5. When Can I Kiss You Again?
6. Cardinal Rule
7. Half Moon Lane
8. Loose Threads
9. Pilgrimage

© Mr. M.