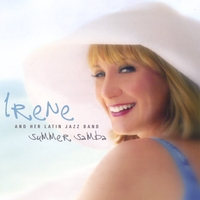 Los Angeles born Irene Nachreiner is an American vocalist with a long experience in Jazzsinging. She has performed for audiences from Los Angeles to Paris to Martinique to Bora Bora. But singing is not her only profession, she studied piano modern jazz dancing, screenwriting and comedy troupe improvisations. And last not least she holds a B.A. cum laude in acting.

For her debut album called Summer Samba, she chose some of her favorite Latin tunes she has heard over the years, and then did extensive research to not only get accurate lyrics, but occasionally uncover seldom-sung verses that are virtually unknown to today's audiences.She chose three compositions by the Brazilian legend Antonio Carlos Jobim and compositions by Sergio Mendes, Roberto Menescal and Pablo Beltran Ruiz.

Her Latin Jazz Band consists of Bassist Daniel Groisman, Marco Tulio on the acoustic guitar and percussionist Cristiano Novelli and some guest musicians on piano, saxophone and flute. They toured a lot and recognized that they can create a perfect Samba sound together, so they decided to record some songs of their repertoire.

The first song SWAY just brings us into the typical Bossa ambience, with soft guitar chords, low-key percussions and Irene's unagitated voice. Her version of SWAY has been nominated for a Los Angeles Music Award in the category "Female Latin Vocals". Her intonation sounds very natural, without any finical approach. That makes the whole record sound very calm and smooth. On SÓ DANÇO SAMBA, one of the numerous famous Bossa Tunes by Antonio Carlos Jobim, she shows, that it is possible to present these well-known tunes, without sounding like a cheap imitation of the original.

The uplifting harmony on SO MANY STARS supports Irene's hopeful vocal sound. Pianist Alex Varden provides a melodic improvisation before Irene walks through the melody. These songs feature Irene perfectly, bringing out the many strong points of her vocal jazz background. LITTLE BOAT references a smooth jazz feel at first, eventually falling into a more traditional Bossa Nova. Irene sings strong and confidently here, using a rhythmic approach and emphasizing phrases with the band. She sings Consuelo Velazquez's BESAME MUCHO in Spanish, with a series of awkward phrasings and a slightly nasal tone. The band plays a ballroom version of bolero, firmly establishing the kitschy atmosphere.
WHATEVER LOLA WANTS dives deeply into the lounge arena, lyrically calling upon outdated stereotypes. Irene revels in this approach; she stretches phrases, whispers, and fills the song with a calm sensuality. Once again, the band finds an appropriate groove in a ballroom bolero, heavily accented with
bongos. MY HEART BELONGS TO DADDY unapologetically presents blatant corniness. The band plays a solid ballroom tango, harkening back to the commercial Latin dance crazes of the fifties. Irene smoothly floats the melody to Irving Berlin's LET'S FACE THE MUSIC AND DANCE over a gentle Bossa Nova foundation. Her subdued vocal approach works well over this melody, inspiring several dynamic changes. Marco Tulio provides solid guitar support throughout the song, while Martin's saxophone matches Irene's melodic development.

All in all Summer Samba is a smooth and professionally made Bossa Nova record, but on certain moments, one tends to wish, that the musicans would play with a little more verve.


Irene And Her Latin Jazz Band - Summer Samba
Year: 2007
Record Label: independent

Musicians: Irene (vocals), Daniel Groisman (bass), Marco Tulio (guitar), Cristiano Novelli (percussion),
Ron Snyder (piano), Scott Martin (saxophone and flute), Rich Wenzel (piano), Brice Martin (flute)

Tracklist:
1 Sway
2 The Constant Rain
3 Summer Samba
4 Whatever Lola Wants
5 Waters of March
6 Só Danço Samba
7 Little Boat
8 So Many Stars
9 Samba Saravah
10 Pretty World
11 Bésame Mucho
12 One Note Samba
13 My Heart Belongs to Daddy
14 Let's Face the Music and Dance

© Mr. M.