Sony Holland - Swing, Bossas, Ballads & Blues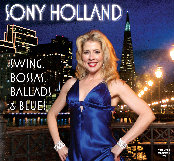 The title says it all - Sony Holland's new CD is a representative cross section of her great ability on vocals. On her new album she presents 16 songs full of passion, rhythm and emotions, which show the great range of her voice .

Sony was born in a Minnesota suburb to a minister father and a mother who was a trained coloratura and pianist. So this family-background brought her in contact with music at a very early age. At the age of 15 she was studying privately with North Dakota State University instructor Bob Olson to learn technique and she was singing non-stop with everything from rock groups to school choirs. Later she attended Concordia College in Moorehead, Minnesota, majoring in voice with a minor in piano. After one year - longing to get back on stage and to experience living in a proper city - she relocated to Minneapolis where she joined Top 40 and funk bands. Then she moved to Nashville where she met a lot of new musicians and also a composer called Jerry Holland who just had a #1 country hit called 'Friends' on John Michael Montgomery. A little time later he became her husband. Now Sony herself has been gloriously immortalized with a great debut CD SWING, BOSSAS, BALLADS & BLUES.

The CD consists of 16 songs, of which 8 are original compositions by Jerry Holland, the rest are more or less well-known standards from the Great American Songbook. It starts with Jerry Holland's AS YOU ARE, a quiet Bossa Tune which was written after a tiff they had. The swinging I CAN'T BLAME THEM FOR TRYING, also written by Jerry Holland, describes the dilemma of being in love with someone that others wish (and sometimes even go after) to be their lover. Sony's voice in this piece changes from silky to a defiant manner and stresses the lyrics in a very impressive way. THE FIRST TIME EVER I SAW YOUR FACE is a beautiful ballad where Sony is accompanied by a wonderful piano played by Larry Dunlap. Sony's vocals in this one remind a little bit of Barbra Streisand's voice. MEDITATION, a composition by "Mr. Bossa" Carlos Jobim himself leads us to the ambiance of a hot brazilian night.

MILLION DOLLAR DREAMS by Jerry Holland is a song in the style of the great Swing-Era, followed by Paul Simon's hit FIFTY WAYS TO LEAVE YOUR LOVER, but Sony and her exceptional musicians really let this Simon-Classic swing. Wow!! ACT LIKE YOU'RE IN LOVE WITH ME, another example for Jerry Holland's songwriter talent, is a classic Blues-tune, in which Sony's seductive voice gently woos the listener's ears.

The famous SPEAK LOW by German composer Kurt Weill is a swinging reminiscence to this great composer, while MY FUNNY VALENTINE comes along as a very soft ballad, only accompanied by the soft guitar-chords of Steve Erquiaga and a warm saxophone played by Charles McNeal, followed by another ballad called THE SHADOW OF YOUR SMILE. The soulful accompaniment of Art Khu on the piano makes this song another highlight on this album.

HERE'S THAT RAINY DAY, another Jazzstandard is a wonderful quiet duet of Sony and Larry Dunlap on the piano. I'LL REMEMBER PARIS by Jerry Holland is a swinging counterpoint to the song before and really makes the listener tapping his foot in the rhythm of the band. Jerry Holland also composed I WAS NO ANGEL MYSELF. The wicked vocals of Sony let us believe every word of the song-title. MIDNIGHT SUN carries us away in the magic atmosphere of a twosome night. YOU'RE THE BEST and SAVING MY LIFE EVERY DAY, both created by Jerry Holland are the swinging icing of the cake.

Sony Holland really shows all the different colors of her voice and this album is the proof, that she can really sing in every musical style, from Swing to Bossa, Blues to Ballads and Rock to classical music. Her excellent musicians support her in every moment with their great ability on their instruments and make this album a very entertaining and outstanding experience. Just enjoy the art of Sony Holland!



Swing, Bossas, Ballads & Blues
On VAN NESS RECORDS
Official CD Release @
The BLUE NOTE, NYC - June 15, 2008
The RRAZZ ROOM, SF - June 29 & 30, 2008
The CATALINA, L.A. - July 8, 2008

Tracklisting:

1. As You Are
2. I Can't Blame Them For Trying
3. The First Time Ever I Saw Your Face
4. Meditation
5. Million Dollar Dreams
6. Fifty Ways To Leave Your Lover
7. Act Like You're in Love With me
8. Speak Low
9. My Funny Valentine
10. The Shadow Of Your Smile
11. Here's that Rainy Day
12. I'll Remember Paris
13. I Was No Angel Myself
14. Midnight Sun
15. You're The Best
16 Saving My Life Everyday