Oliver Mtukudzi - Tsimba Itsoka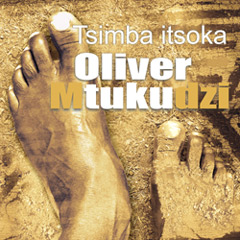 Oliver "Tuku" Mtukudzi was born in 1952 in Highfield, Harare. He is a Zimbabwean singer, guitarist and songwriter, one of the longest-lasting popular performers from that country. He began performing in 1977 when he joined the Wagon Wheels, a band which featured Zimbabwean legend Thomas Mapfumo. Their single, Dzandimomotera," went gold and Tuku's first album followed, and it was also a major success. Mtukudzi is also a contributor to Mahube, Southern Africa's 'supergroup'. Since 1977 Oliver "Tuku" Mtukudzi has released more than 40 albums and won numerous awards, such as the National Arts Merit Award (NAMA) in 2002 and 2004 for Best Group / Male vocalist, the KORA Award for Best African male artist and the Lifetime Achievement Award in August 2003, the Reel Award Winner for Best African Language in 2003. He also gained an honorary degree from the University of Zimbabwe in December 2003.
His music is not only for entertainment, not seldom his lyrics pick up serious social problems of his country. That makes him also a very important chronicler of the development of Zimbabwe. Zimbabwe faces a lot of problems: Inflation is running around 7,000 percent. Public discontent with President Robert Mugabe is higher than ever. Shop shelves are empty. And food is scarce. And it's a sad reality, that a lot of Zimbabweans even don't have enough money to buy a CD. So Mtukudzi's new release "Tsimba Itsoka" for Heads Up Records is also a mirror of the current state of the Zimbabwean society through the eyes of a native artist.
Translated literally, "Tsimba Itsoka" means "No foot, no footprint," a simple phrase that serves as the foundation for every song on the album. "Everyone's footprint is different" says Mtukudzi, "each person is moving on a different path through life. Some are traveling in a positive direction, while others are traveling in a negative direction. But everyone leaves their mark on the world, no matter how big or small." And one could add: And if there wouldn't be any human footprint at all, then there wouldn't be a chance for a change...!
The CD contains 12 tracks and each of them deals with the main theme: In which way do we leave our footprints in the world...In the opening track UNGADÉ WE ("Would you like it?"), he broaches the issue of pedophilia (a crime which is also a sad reality in our western societies), and asks the perpetrator how he would feel if the tables were turned. "I'm asking, 'Would you like it if your daughter was raped?'" says Mtukudzi. "In other words, what kind of footprint are you leaving behind, based on the life you're living now? And what would that footprint look like to you if it were pointed in your direction, or in the direction of someone you loved?". But Mtukudzi doesn't ask that as a smart-aleck. He puts his thoughts to this serious topic in a smooth jazzy rhythm accompanied by female vocals. This apparent discrepancy of lyrics and music makes this song just more impressive.
The midtempo KUROPODZA ("One who talks too much"), underscored by the murmur of muted guitars, is a song about communication, and how easily it can break down between individuals and groups. "If you just talk and talk and talk, you're not having a discussion," says Mtukudzi. "You need to make some space for someone else to speak back to you. If you speak and then listen, then it becomes a conversation."Driven by an understated guitar and a simple rhythmic line, MHINDURO ("Reply") is a commentary on the fast talking that the guilty resort to in order to cover their tracks. "In the song, I'm saying, 'Why do you give answers when there are no questions?'" says Mtukudzi. "It only proves that you're guilty. You're explaining yourself when no one has asked you to. You're trying to cover your guilty footprints."
The atmospheric KUIPEDZA ("Wasting") features a haunting melody augmented by high-end female vocals. "The song talks about wasting precious time with negative emotions," he says. "Hating each other is just a waste of time. If we love and respect each other, the world would be a beautiful place. We need to spend the time we're here making good footprints."
MBIRI HURIMBO ("Fame is sticky") is a poignant ballad that peers into the bright and dark sides of fame and celebrity. "Fame is not something you're born with," says Mtukudzi. "It's something that comes to you and sticks to you. It's not you. It's what you do, or the result of what you do. When you're famous, your footprint becomes bigger than your foot. Maybe too big. It becomes easier for people to follow it, even if it's not the best footprint to follow."
The last track KUMIRIRA NEKUMIRIRA ("Waiting and waiting") is a call to action to those who would rather be controlled by adverse circumstances than take control of them. So at this point the concept of the whole CD comes full circle. "We can't wait for miracles to happen," says Mtukudzi. "If there are problems that have to be solved, if we want our lives to be better, then we have to do something for ourselves. If we're not taking action to make our life better, if we're not walking, if our feet are not moving, then there's no footprint for people to follow.Indeed, the path through life is long and winding, and filled with obstacles and hazards, says Mtukudzi. Every step, no matter how small, is critical. "Life is how you make it," he says. "The quality of life is measured by the kinds of steps you take as you walk through it. The footprint is a representation of who we are, where we are and where we're going. If you happen to see a footprint in the road, it means someone has been there before you, and there's something to be learned from that person's life and that person's story. "Tsimba Itsoka". There is no footprint without the foot."
Mtukudzi's music is a nice melange of Afro-Pop combined with Jazz and lots of Soul. He is a really great artistic ambassador of his country. This release is worth to gain a lot of attention in our western countries, too. Maybe it can help to find a better understanding of the contemporary life in Africa, which most of us only know out of the news. Mtukudzi's music can bring people of all kinds together. As Tom Schuman, the great contemporary American Jazz musician once said: "Music bridges people...across all divides!" Hopefully this record will have enough listeners also in our western world, because Oliver Mtukudzi's music encourages us, the listeners, to leave our footprints on the times in a positive way. And this demand is as universal as the music of Oliver Mtukudzi. World Music in the truest sense of the word!
Oliver Mtukudzi
Tsimba Itsoka
HUCD-3124
UPC: 0-53361-31242-8
Release Date:
August 28th, 2007
© Mr. M.