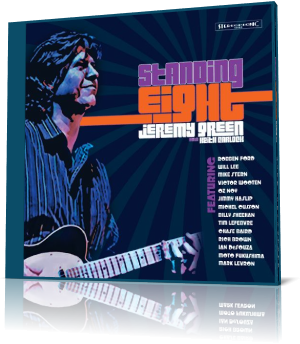 Jeremy Green started playing the electric guitar when he was twelve, when he snuck into his brother's room to strum his Ibanez Roadstar Custom. Three years later he was already playing semi-professionally in Southern Ontario, Canada in small clubs and at parties.

During the 1980s he was a guest on the music scene in and around Toronto. Since then he has recorded with famous musicians such as Mike Stern, Robben Ford, Keith Carlock, Victor Wooten and Billy Sheehan. His music could be heard locally on JazzFm as well as on the radio worldwide.

He worked on this new album, which contains 8 tracks, for a whole year. It features instrumental funk & fusion with the help of famous musicians such as drummer Keith Carlock, Mike Stern, Jimmy Haslip, Robben Ford, Will Lee, Victor Wooten, Oz Noy, Tim Lefebvre, Billy Sheehan, Michel Cusson, Rich Brown, Chase Baird, Moto Fukushima, Mark Levron and Ian Desouza.

The album was then mixed and remastered in Nashville by Jerry Guidroz. Jeremy said: "It was an honor paying homage to these guys. Every song was written with their uniqueness in mind, as you can tell from the title of each track." He wrote all the songs himself, and opens with 'No Jacket Required', featuring guitarist Mike Stern and bassist Jimmy Haslip.

It does indeed sound like a mixture of funk & fusion. The funky 'Ain't No Chevy' follows, with help from Robben Ford, Will Lee, Keith Carlock and Mark Levron. And that funky atmosphere continues with 'Michael & Me', which features Victor Wooten, Keith Carlock and Chase Baird.

Oz Noy is next on 'The Land of Oz', a funky up-tempo track. 'Big Shoes', on the other hand, goes more in the rock direction, with bassist Tim LeFebvre, followed by 'Mr. Beast' sounds way too heavy for me. 'Close with the Jab' floats on an infectious groove and closing track 'Car Rock', the longest track on this album, brings Oz Noy back on the scene.

Real food for fans of funky fusion!